Weekly Comment: August 17 to September 23
Hello again and thanks for tuning in. I have realised that the complaints and protests against the government laws are a waste of time. In Australia especially, the government has slowly morphed into a private corporation that has dismantled the 'Constitution' and created laws that are illegal. The current political system is designed only to serve a corporate agenda and vested interests. Our so-called governments, judiciaries and public offices are corporations where the focus is profit. Look at any government notice, letter, or document. They all have an Australian Business Number (ABN). No true government performs as a business. A true government is established to serve the people.
Establishing a 'Common Law Court' should not be confused with the term, 'Common Law' within the current legal system, which is the part of English law that is derived from custom and judicial precedent rather than statutes. Before you do anything else, please register your Common Law birth, as this will move you out of the Roman Law (Admiralty) jurisdiction, and into the Private jurisdiction as a living man or woman.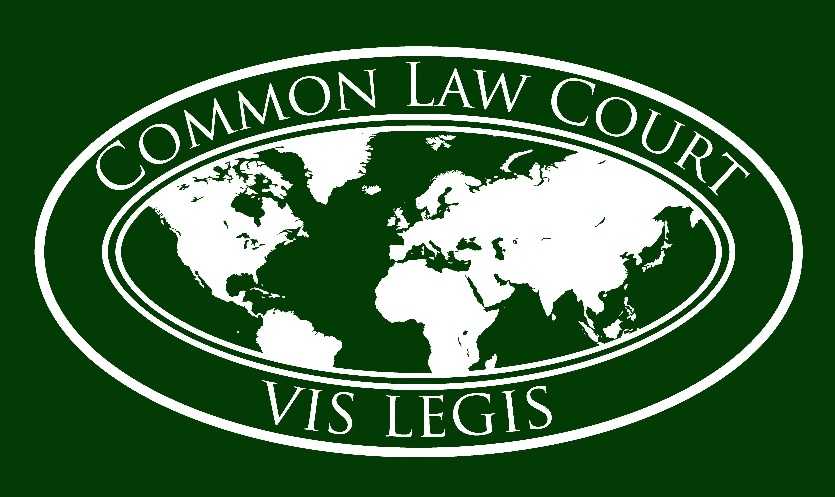 The Common Law's First Principles establish its general legitimacy and lawfulness. This valid system gives rise to Courts with the power to protect the people as a whole by prosecuting and indicting any people and institutions that threaten the community. The mandate to establish Common Law Courts is derived from the sovereignty of the people as a whole, and not from any particular political system or government. Common Law Courts are therefore universal, not constricted by customary borders or laws, and possess the jurisdictional competence to adjudicate any issue or grievance. Common Law Courts are not subject to and do not recognize any other legal or political authority, immunity or privilege, like those routinely claimed by heads of churches and states.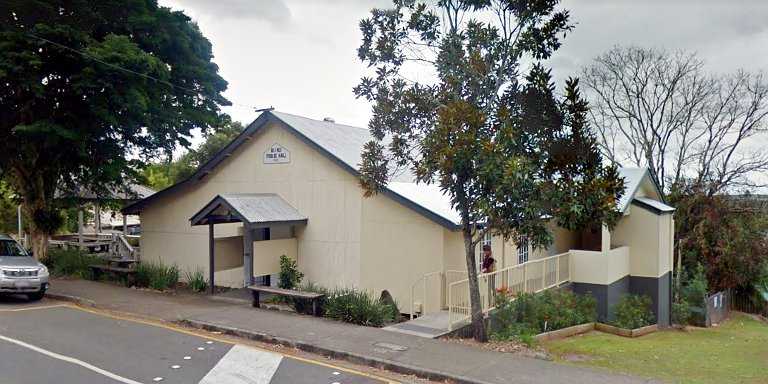 I went to a meeting in a hall on the Sunshine Coast where we, as a group, banned all the COVID laws, under 'Common Law', so businesses could get back to business properly. If they have trouble with the 'local law enforcers', they call one of our 'Sheriffs' to protect them and uphold our Common Law judgement.
As always, do your own research. We had no say in how we are to be governed, so we need to take back the power from those who obviously do not represent our wishes as a community. Until next week, Michael, for the TiC Team.
Weekly Comment: August 10 to August 17
Hello again and thanks for tuning in.
On a personal note, I have had a very interesting year. I came to the UK to teach Business and Economics. I resigned from a job before Christmas and started a second job in the new year. I was fired from That job for traveling to Sweden on the holidays. One thing I treasure is the diversity in cultures I have experienced this year.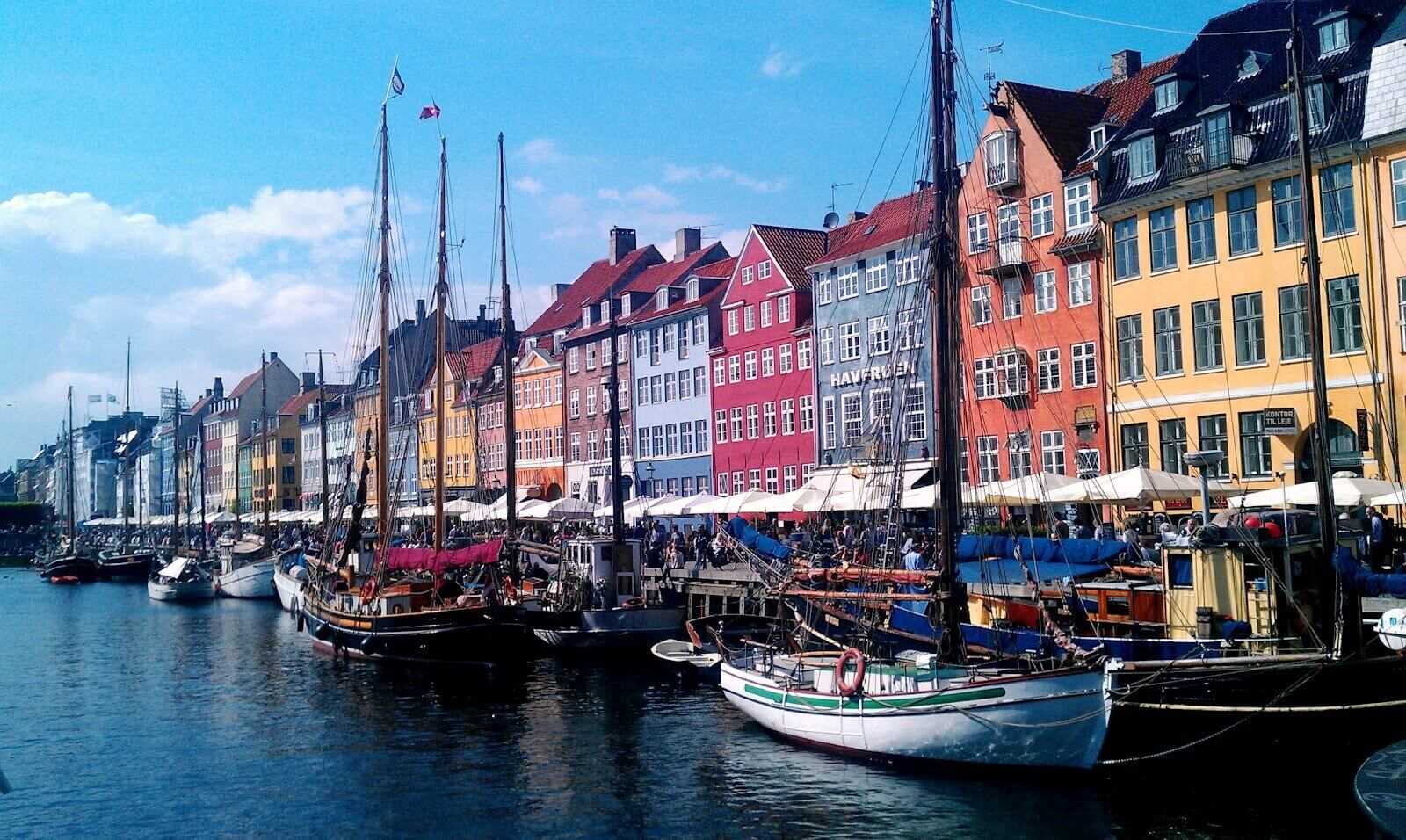 I have spent some time in Portugal and lived in Malmo, Sweden for nearly two months. I also had a good look around Denmark. There is still a great cultural experience despite the large number of immigrants, especially in Sweden. This is why most people travel; to experience this cultural diversity.
Weekly Comment: August 2 to August 9
Prime Minister Julia Gillard when announcing the Royal Commission in 2014, said, "The allegations that have come to light recently about child sexual abuse have been heartbreaking. These are insidious, evil acts to which no child should be subject. The individuals concerned deserve the most thorough of investigations into the wrongs that have been committed against them. They deserve to have their voices heard and their claims investigated. I believe a Royal Commission is the best way to do this."
One issue that keeps surfacing is the Global Pedophile network. Australia is no exception. I am hoping the pressure by many hard working advocates for children's rights will eventually convince the government to act.
I would dearly like to hear your thoughts and comments on this issue. We can only make a difference if we work together. Until next week – Michael, for the TiC Team.
Hello again and thanks for tuning in.
The Ninth Circle Satanic Child Sacrifice Cult could easily hide crimes of their global elite members. They were well trained by Hitler's mind control experts from Nazi Germany. Barnett's Nazi grandfather's pedophile network was said to include clinical psychologists Kidman and John W. Gittinger who developed a popular test among psychiatric professionals known as the Personality Assessment System. In the Independent Australia News Barnett stated that as a young child, "Gittinger abused and raped me."
In late 2014, several reports revealed the existence of a child death cult called the Ninth Circle composed of European elite who, allegedly, engaged in child trafficking to put on "human hunts" where kidnapped and drugged children were stripped naked, raped, tortured, hunted down by horseback in the woods, and killed ritually by European nobility and their guests (who were known to drink their victim's blood). Some accounts claim these powerful few also turned to cannabalism and ate parts of their "offerings" to the demonic deity they revere.
Several eyewitnesses who survived their ordeals came before the Brussels International Common Law Court of Justice (ICLCJ) in the fall of 2014. Five judges and 27 jury members weighed the horrific evidence presented to them. The Mandate of the ICLCJ is two-fold: "(1) To lawfully prosecute those people and institutions responsible for the exploitation, trafficking, torture and murder of children, past and present, and (2) To stop these and other criminal actions by church and state, including by disestablishing those same institutions (Joe, 2014)."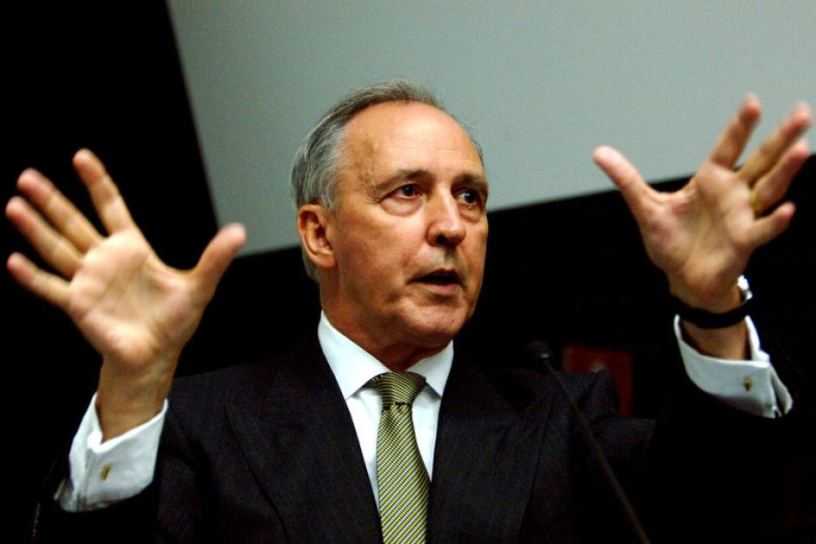 Former prime minister Paul Keating's daughter, 37-year-old Katherine Keating, is being pursued by some of the world's biggest media outlets over her connection to Jeffrey Epstein, the wealthy sexual predator who died in a Manhattan jail 11 days ago. Katherine Keating's Twitter account has been silent for three weeks. James Brickwood. Ms Keating, a socialite and media-industry manager, was identified by the Daily Mail overnight as a woman videotaped leaving Epstein's Manhattan house in 2010. In the video, which was published on Sunday, she is seen waving goodbye to Prince Andrew, who was a friend of Epstein's. Epstein was a convicted child sex offender at the time. Ms Keating was 29 (Patrick, 2019).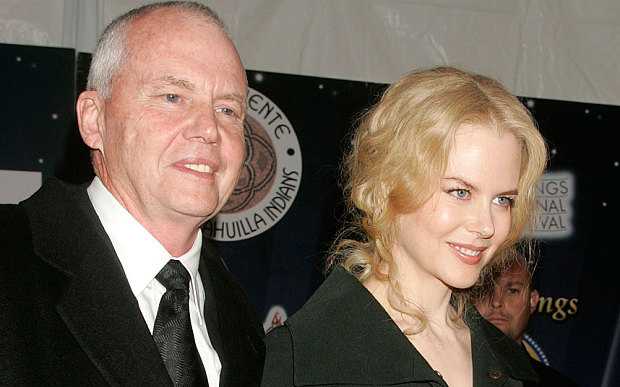 Mystery still surrounds the late-night death of Angus Hawley, high-profile Sydney businessman and Nicole Kidman's former brother-in-law. The 46-year-old father-of-four, who was married to Antonia Kidman for 11 years, died while on a business trip to New York on April 25, 2015. The sudden death of one of Sydney's "society princes" attracted much public interest, but the findings of his autopsy have never been released. A freedom-of-information request by Fairfax Media in March to access the autopsy findings was denied and then an appeal against this decision was also denied by the New York Office of Chief Medical Examiner last month in the interest of preserving the privacy of the family (Croffey, 2016)
In 2013, I formally reported Antony Kidman as a perpetrator of child abuse to the Royal Commission at a private hearing in Brisbane. Later in 2013, I made an application to the NSW Victims of Crime, naming Kidman and other perpetrators. NSW Victims of Crime used subpoenaed medical and other documents (dating back to over 20 years) to determine on the balance of probabilities that I was, indeed, a victim of crime (Barnett, 2014).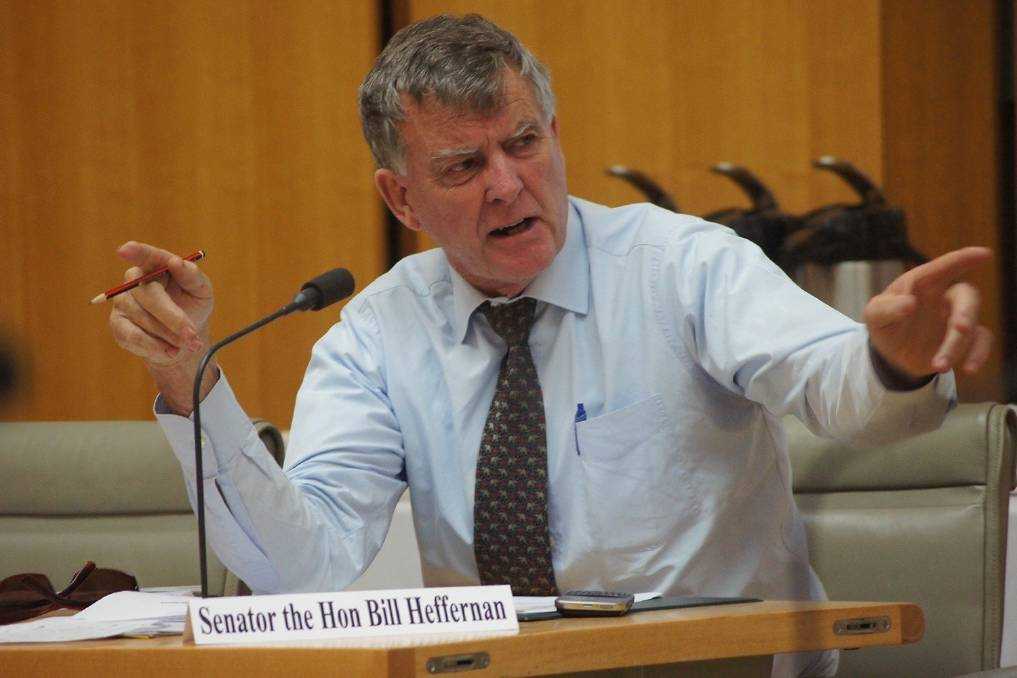 Senator Bill Heffernan claimed in Parliament on Tuesday (19/10/15) that he has a police list of 28 prominent people that includes a former Prime Minister and current judges that are suspected of being paedophiles. This is dynamite and an issue that will not go away until it is dealt with in full in an open and public manner.
Allegations of the elite pedophile ring surfaced in a Senate estimates hearing earlier this week, with Liberal senator Bill Heffernan claiming he had obtained a police list containing the names of 28 prominent people. Senator Heffernan wouldn't name names on Tuesday but called on Attorney-General George Brandis to expand the child abuse Royal Commission to include the legal fraternity, as well as a former prime minister. He told the Senate estimates hearing in Canberra he had provided the Commission with documents, one naming the alleged pedophiles including "a whole lot of prominent people."
Anyway folks, let's do some research and expose these evil people. There is plenty of 'mainstream' stories to follow up. If you find something you would like me to post, please get in touch!
Until next week, Michael – for the TiC Team.
Weekly Comment: July 25 to August 1
Hi again and thanks for tuning in!
I have been flooded in recent days with videos about the 'Q'. There are many who are resting all their hope for a wonderful new world on one man….Trump. How could a former Real Estate tycoon be the Saviour of the free world? Where did he get such power and influence? The latter is a question that is even harder to answer than the first. The best evidence I can find amongst all the 'glowing' rhetoric on offer in these videos is the activities Trump just after winning the Presidency.
According to the best sources, Trump went to Saudi Arabia, then Israel. Next was China, Brussels (EU & Nato), Japan, Vietnam, DAVOS Meeting in Switzerland, India , Canada, Russia and South America. Presenting documents and video evidence so complete and overwhelming that leaders were changed and arrests made. Trump was now the most powerful man on the planet and many leaders were now working for his team. This video presents the best timeline for you to follow, although the main narrator does embellish a lot on the 'facts'.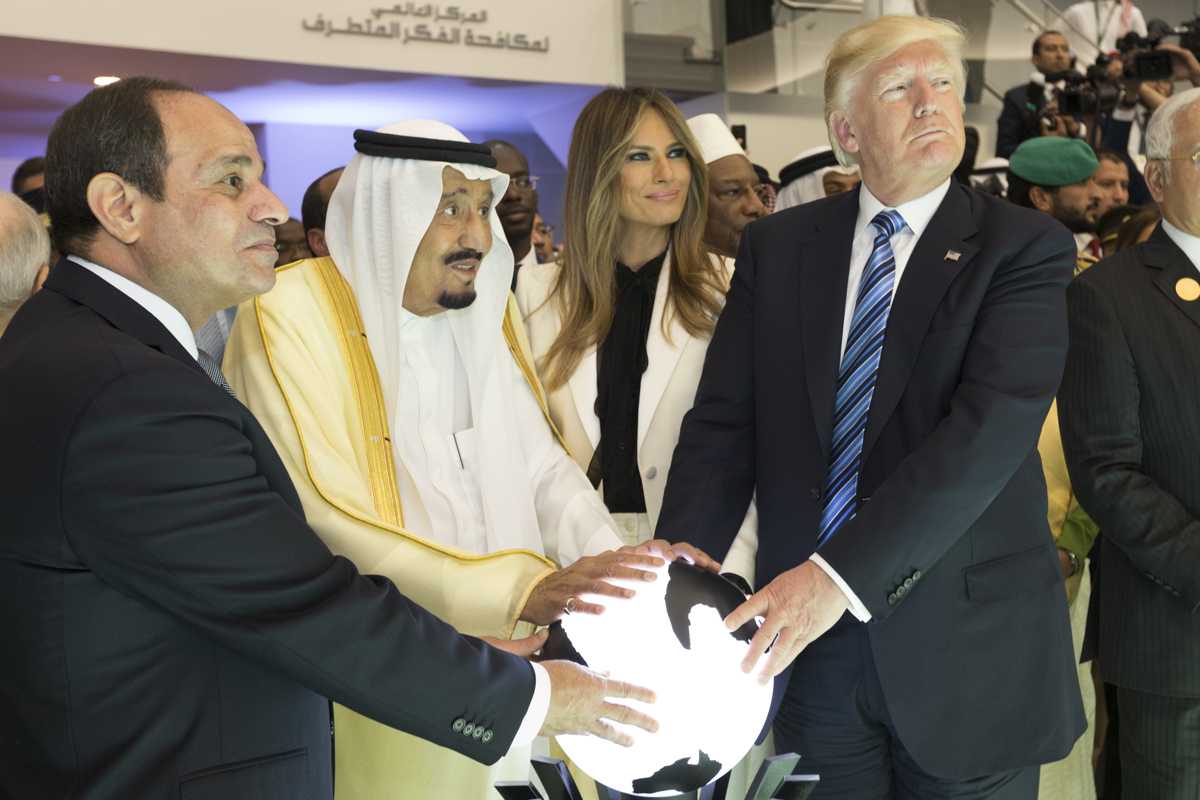 Perhaps do your own research as most of the events were covered by the mainstream media.
Thanks for dropping by and have a wonderful week, Michael for the TiC Team.
Weekly Comment: June 24 to July 1
Hi again and thanks for tuning in.
I was aware of a film by Oliver Stone addressing the JFK assassination…..I had never watched it however. Now that I have, I understand the reasons for the 'conspiracy' theories. In my opinion, he was definitely murdered by his own people. There was always 'mainstream' doubt about the official story. A loser, (Oswald), who was also an ex US marine with a 'fair' aim, fires 3 shots in 7 seconds, from a cheap bolt-action rifle with a dodgy sight. Lee Harvey Oswald actually defected to the USSR during this cold-war period, changed his mind, his US passport restored and returns to the US with a Russian wife and child (That would not happen unless he was going to be used). He was also an activist for those supporting Fidel Castro in Cuba. Anyway, watch the JFK movie produced by 'rebel' producer Oliver Stone….it covers all the actual 'facts'. The following is a reminder of the 'facts as we were told.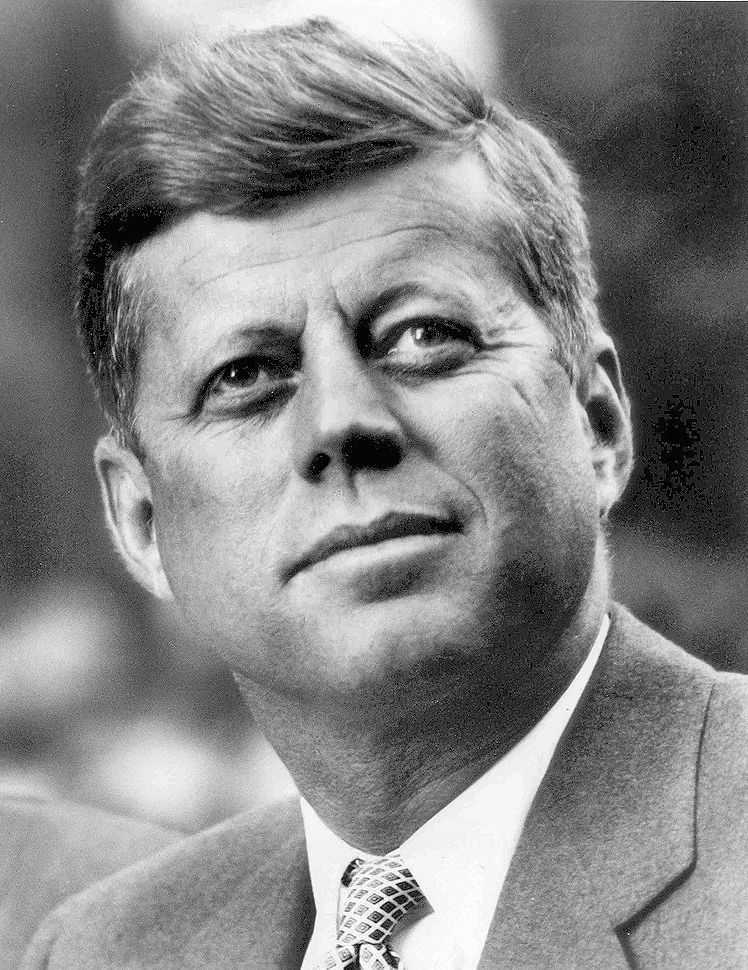 John F. Kennedy, the 35th President of the United States, was assassinated on Friday, November 22, 1963, at 12:30 p.m. Central Standard Time in Dallas, Texas, while riding in a presidential motorcade through Dealey Plaza.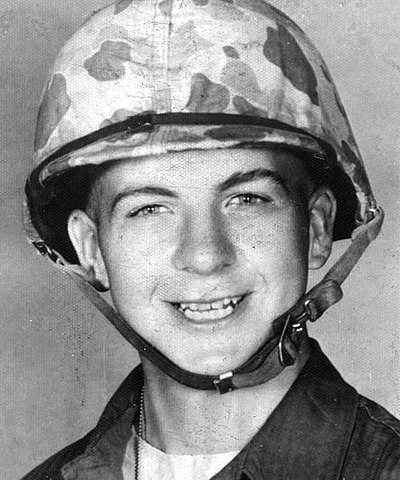 He was fatally shot by former U.S. Marine Lee Harvey Oswald firing in ambush from a nearby building. Governor Connally was seriously wounded in the attack. The motorcade rushed to Parkland Memorial Hospital where Kennedy was pronounced dead about 30 minutes after the shooting; Connally recovered (wikipedia, 2020).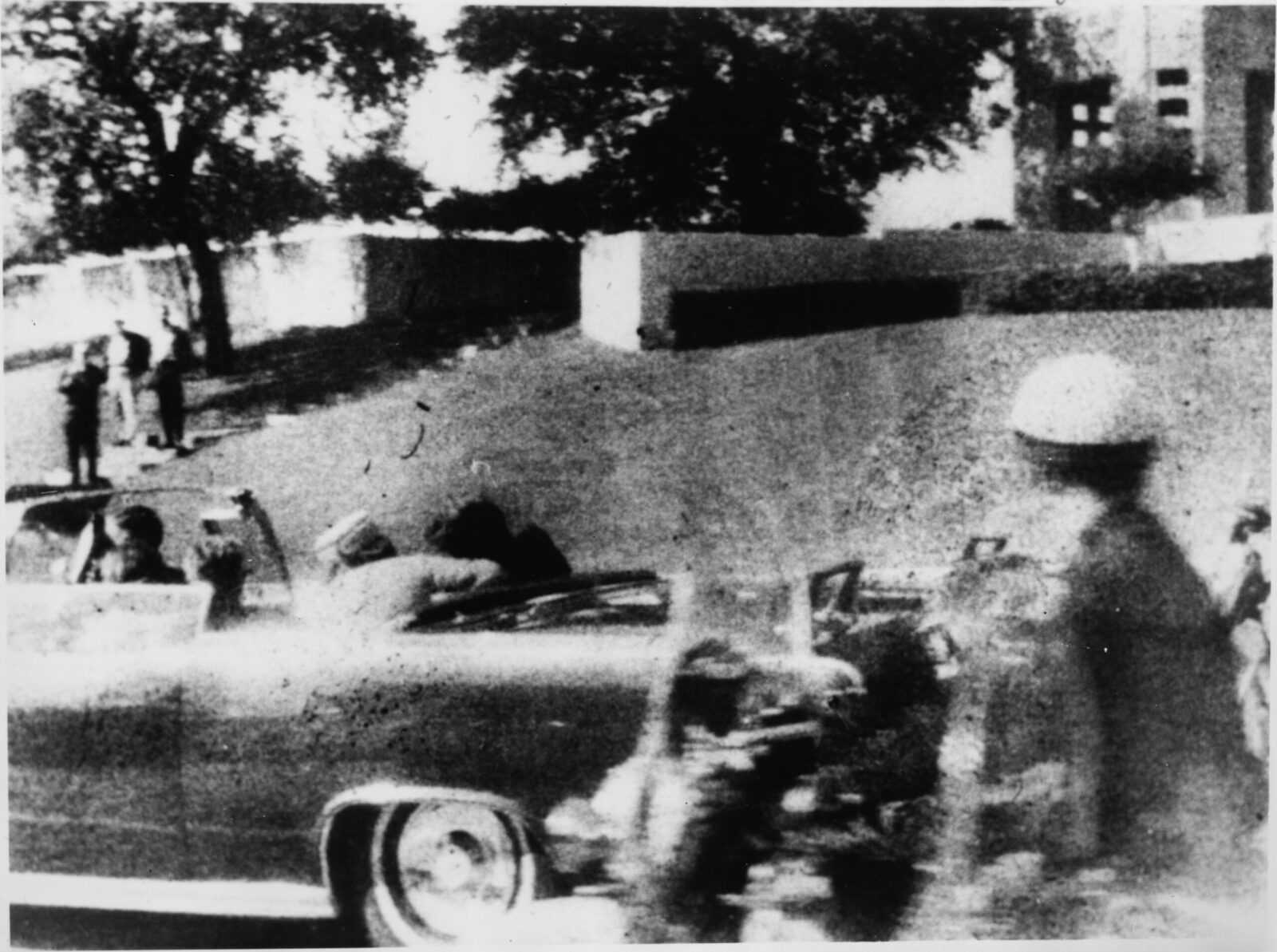 Lee Harvey Oswald (October 18, 1939 – November 24, 1963) was an American Marxist and former U.S. Marine who assassinated United States President John F. Kennedy on November 22, 1963. Oswald was honorably released from active duty in the Marine Corps into the reserve and defected to the Soviet Union in October 1959. He lived in Minsk until June 1962, when he returned to the United States with his Russian wife, Marina, and eventually settled in Dallas. Five government investigations concluded that Oswald shot and killed Kennedy from the sixth floor of the Texas School Book Depository as the President traveled by motorcade through Dealey Plaza in Dallas.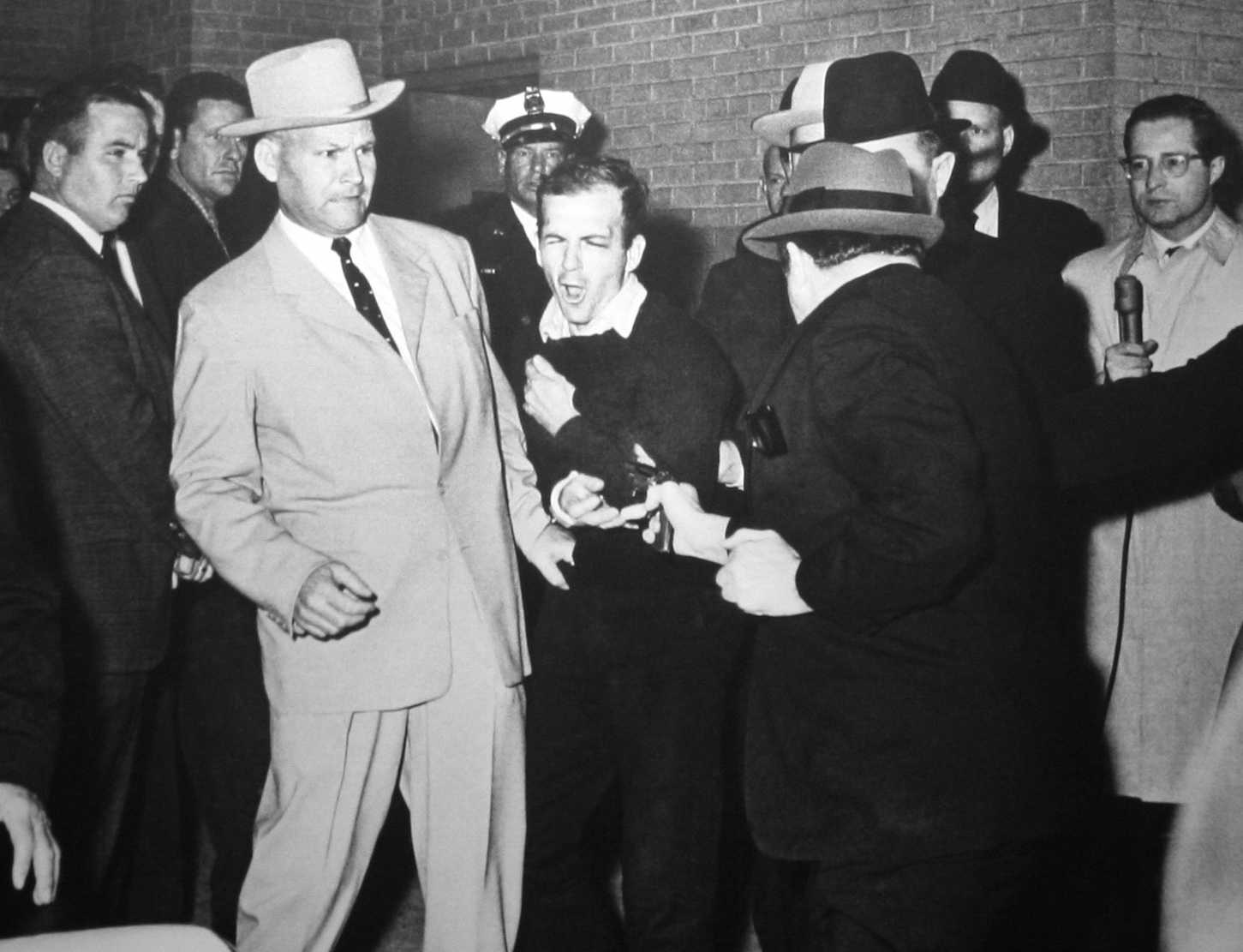 Jack Leon Ruby (born Jacob Leon Rubenstein; April 25, 1911 – January 3, 1967) was an American nightclub owner. He fatally shot Lee Harvey Oswald on November 24, 1963, while Oswald was in police custody after being charged with assassinating United States President John F. Kennedy and murdering Dallas policeman J. D. Tippit about an hour later. A Dallas jury found him guilty of murdering Oswald, and he was sentenced to death. Ruby's conviction was later appealed, and he was granted a new trial. However, as the date for his new trial was being set, Ruby became ill in prison and died of a pulmonary embolism from lung cancer on January 3, 1967.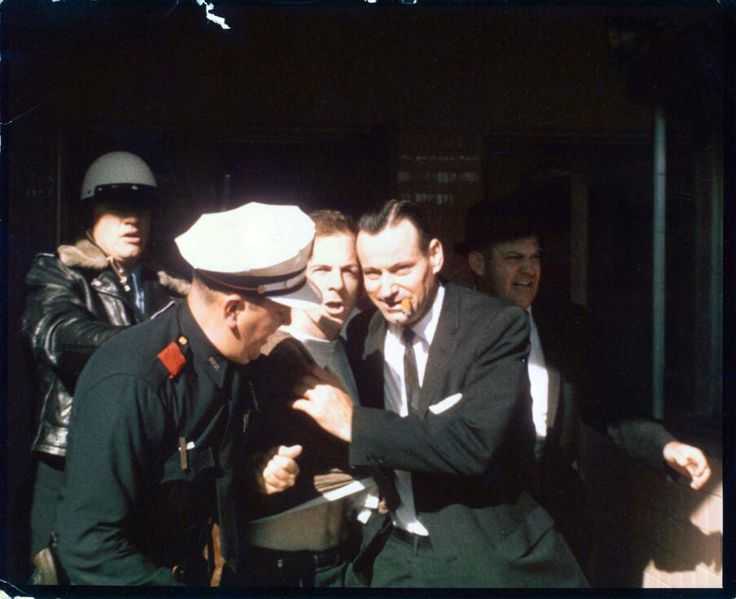 In September 1964, the Warren Commission concluded that Ruby acted alone in killing Oswald. Various groups believed Ruby was involved with major figures in organized crime and that he killed Oswald as part of an overall plot surrounding the assassination of Kennedy (wikipedia, 2020).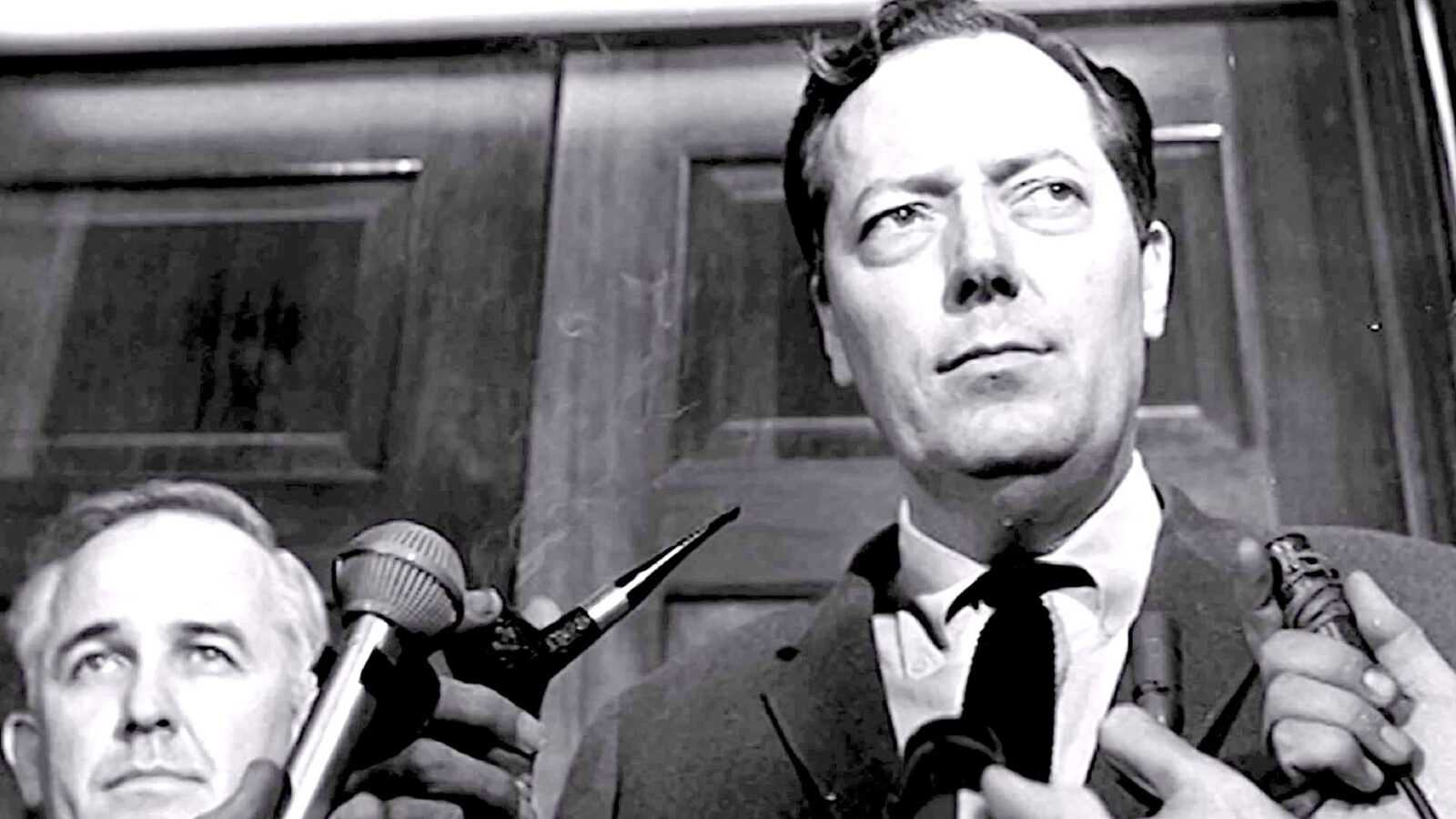 On May 8, 1967, the New Orleans States-Item reported that Garrison charged that the CIA and FBI cooperated to conceal the facts of the assassination, and that he planned to seek a Senate inquiry looking into the CIA's role in the Warren Commission's investigation. Garrison later wrote a book about his investigation of the JFK assassination and the subsequent trial called On the Trail of the Assassins. This book served as one of the main sources for Oliver Stone's movie JFK. In the movie, this trial serves as the back story for Stone's account of the assassination of John F. Kennedy (wikipedia, 2020).
Oliver Stone's movie, JFK, was released in north America in December 1991, and on the other side of the Atlantic over the next few months. The film is perhaps best known by the general public for three things: 1. Its inclusion of the Zapruder film, which depicts with great clarity a large part of the shooting sequence, and in particular the fatal head shot 2. Its use of the iconic phrase "back and to the left" to describe the movement of President Kennedy's head in reaction to the fatal shot 3. The enormous amount of hostility directed at the film by pundits in the print and broadcast media.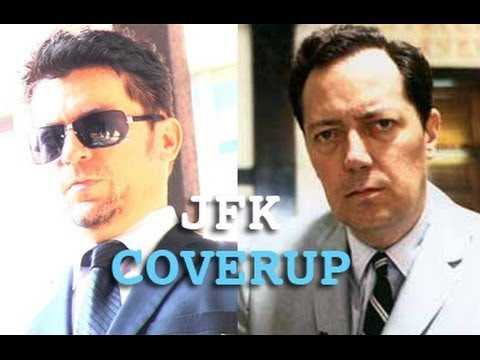 Oliver Stone treated the main questions accurately: where Oswald was during the shooting, the single bullet theory, connections between Oswald and US intelligence, and the purpose of the Warren Commission.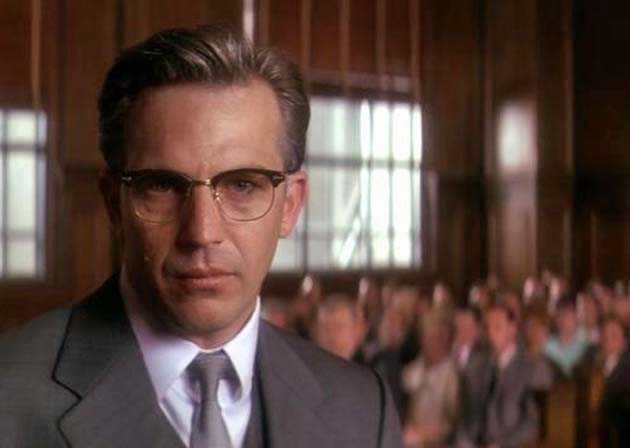 Many of the accusations against JFK were directed at this type of issue. Because the film concentrates on Jim Garrison's investigation of the New Orleans aspects of the crime, a good deal of the film's material falls into this category. Some of the accusations turned out to be accurate, and pointed to factual errors in the film. Some referred to evidence that could reasonably be interpreted in more than one way. Other accusations were not accurate; in some of these cases, what were alleged to be errors were merely examples of dramatic licence (http://22november1963.org.uk/how-accurate-is-oliver-stone-film-jfk).
The CIA Kennedy assassination theory is a prominent John F. Kennedy assassination conspiracy theory. According to ABC News, the Central Intelligence Agency (CIA) is represented in nearly every theory that involves American conspirators. The secretive nature of the CIA, and the conjecture surrounding high-profile political assassinations in the United States during the 1960s, has made the CIA a plausible suspect for some who believe in a conspiracy. Conspiracy theorists have ascribed various motives for CIA involvement in the assassination of President Kennedy, including Kennedy's firing of CIA director Allen Dulles, his refusal to provide air support to the Bay of Pigs invasion, his plan to cut the agency's budget by 20 percent, and the belief that the president was weak on communism.
Weekly Comment: June 17 to June 24
Hello again and thanks for tuning in!
What a privilege to be able to travel to Scandinavia during this bogus viral global shutdown. I have had to be creative to get through border security as the countries are tightening up rather than opening up as promised (no surprise really). My friends on fb are familiar with my recent travels. Some of my excuses for escaping the blanket lock-down in the UK have been successful, while others haven't. That adds to the excitement as you approach the border checkpoints. This weekly comment is personal, self-absorbed, but hopefully still worth a read.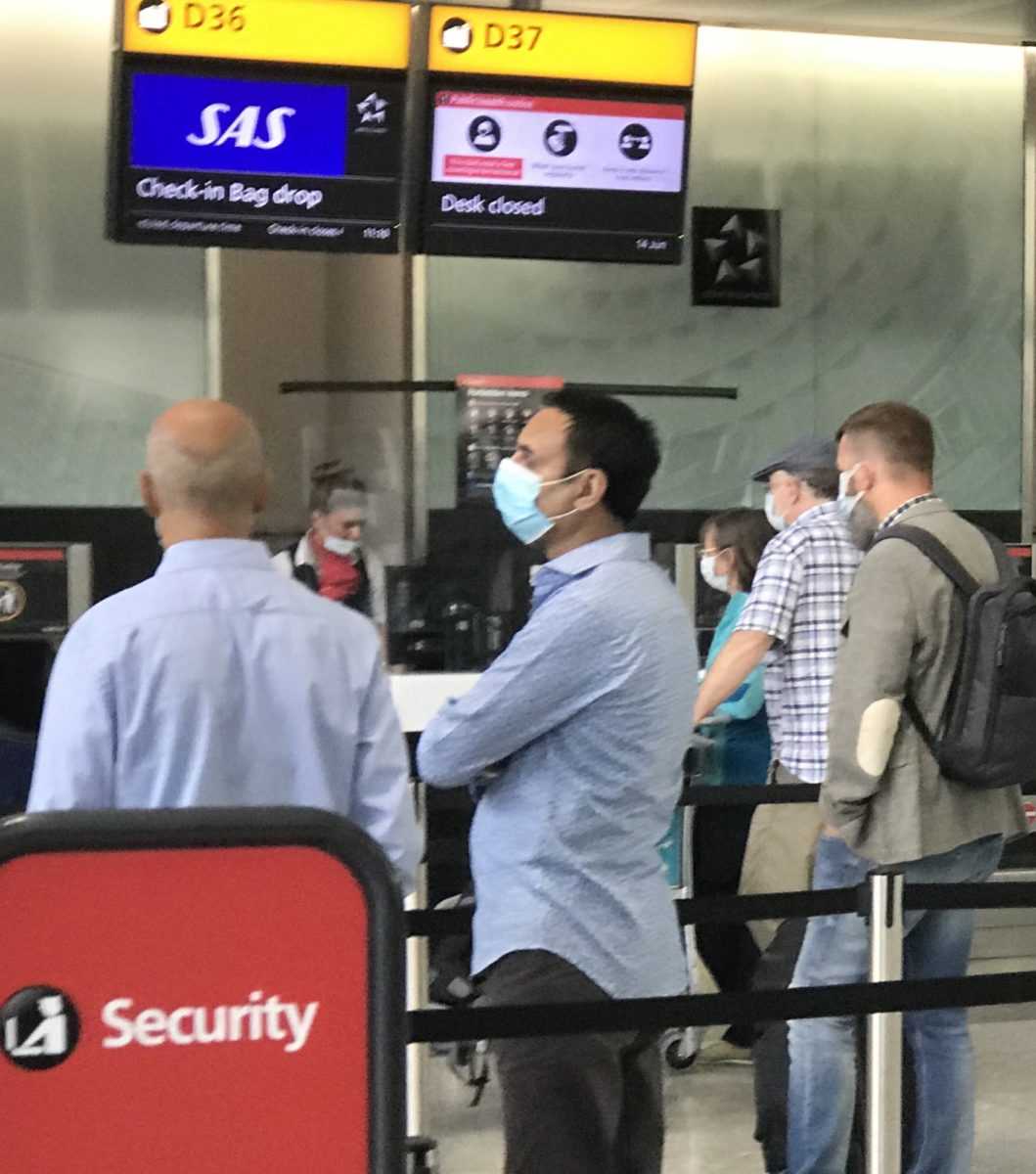 The mandatory masks of Heathrow Airport
Coming from Queensland, Australia to this part of the world is a wonderful experience. The tropical rain forests and golden beaches of my beloved Noosa on the Sunshine Coast are so different to what I see on my walks through the forests in Sweden and Denmark….at least that's what I thought until this week. Wow….what a pristine valley of wonderous plants we found. My gorgeous hostess took me on a walk in a hidden valley between Stockholm and the Danish border. So quiet, warm and inviting. The vegetation was of a tropical nature, with ferns and vines shrouding the taller canopy. The day was also a very pleasant 24 degrees.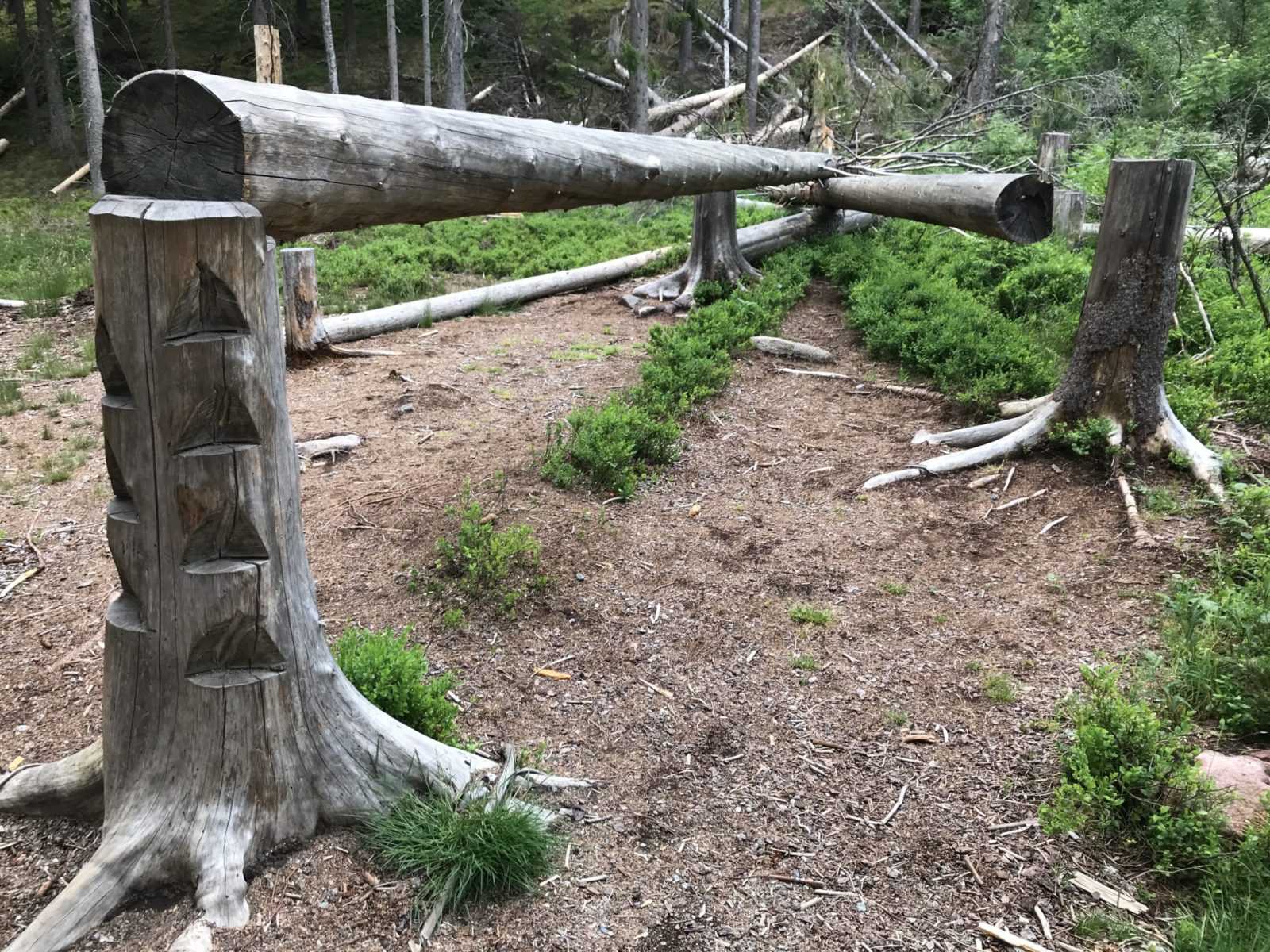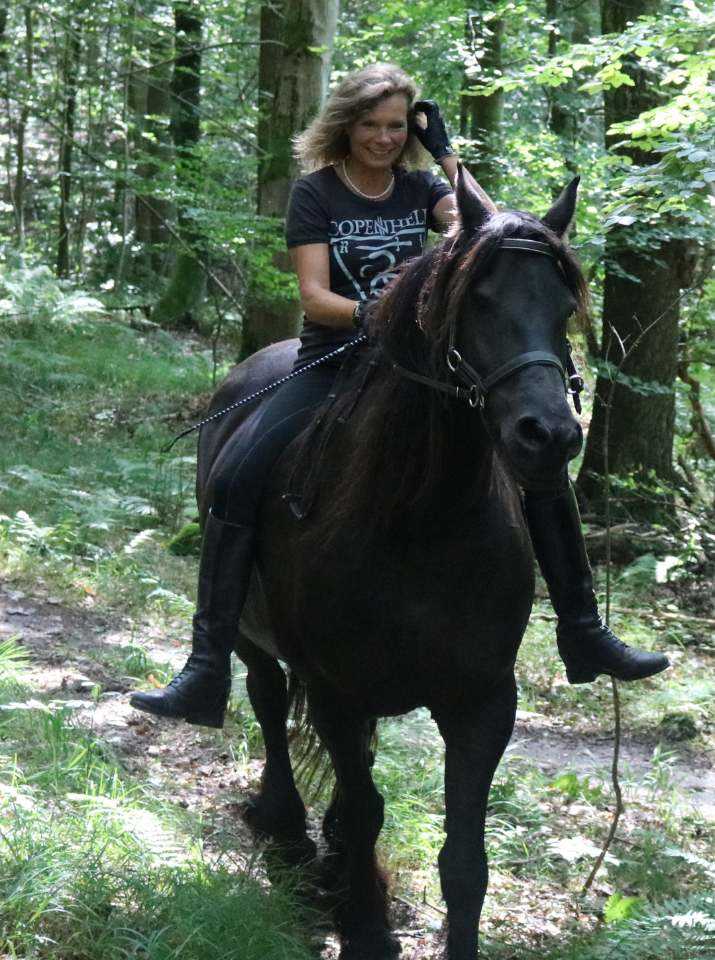 Lupins….a beautiful contrast to the greens of the forest. These flowers are everywhere. There are also masses of wild blueberries for the picking, but not for a few more weeks. The lakes, wildlife and forests are something out of a Scandinavian fairytale. Growing up in Australia in the sixties, we were introduced to the region through Hans Christian Andersen and others. No gingerbread houses here though.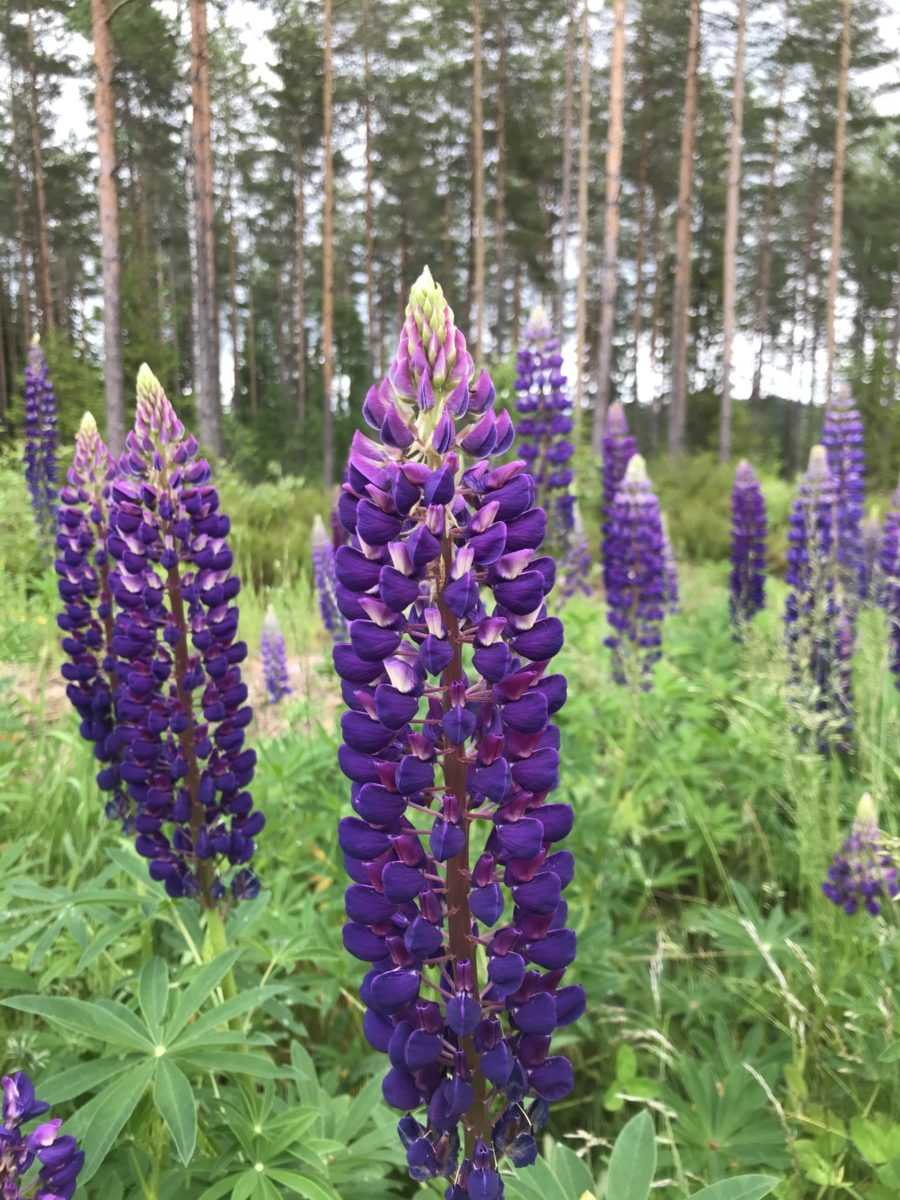 As you are aware, Tune in Channel strives to present videos and information about social, cultural and economic truths. There are so many issues that need to be discussed and engaged with. many are confronting, including child sex trafficking and pedophilia….but they need to be addressed. These two issues are so entrenched on a global scale. Those involved are protected by our governments on a scale that many are not aware of. Most people would like to think that these perpetrators of this evil are being pursued and ultimately prosecuted for their crimes. Unfortunately, the highest courts in the lands are compromised and justice is never done. A recent example is the release of George Pell on appeal and Australian PM, Scott Morrison turning a blind eye to Hillsong and their Founder's father's investigation by US authorities. These issues NEED to be dinner table conversation and spoken about in the community. The solo heroes for these abused children generally end up dead….that is a crime of magnanimous proportions. Princess Diana, Seth Rich, Chester Bennington, Chris Cornell, Anthony Boudain, Tim Bergling, David Carradine, Robin Williams, just to name a few.
Until next week, Michael – for the TiC Team.
Weekly Comment: June 9 to June 16
Hello again and thanks for tuning in.
What a week it has been. I have had lengthy conversations with many people this week regarding pedophilia. I hope I haven't lost anyone at this point. I am not detailing 'conspiracy theories' about this disturbing activity, known in the medical profession as a psychiatric disorder, by the way. There is, however, extensive evidence that some people in power to the highest level are involved in organised pedophilia (a slight difference). The discussion instead, revolves around the death of two well-known rock stars in two months in 2017. I have been performing and recording rock music for 40 years and I feel this story needs to be told as a tribute to these fine men and musicians.
Linkin Park's Non-Profit Venture in Haiti
Around 12:15 a.m. on May 18, 2017, Chris Cornell of the band Sound Garden was found unconscious by his bodyguard in the bathroom of his hotel room, 1136, at the MGM Grand in Detroit, Michigan, after performing at a show with Soundgarden at the Fox Theatre on May 17. He was lying on the floor with an exercise band around his neck and blood in his mouth. An MGM medic and EMS personnel were unable to revive Cornell. Cornell was pronounced dead by a doctor at 1:30 a.m., at the age of 52. The cause of death was officially ruled a suicide by hanging (wikipedia 2020)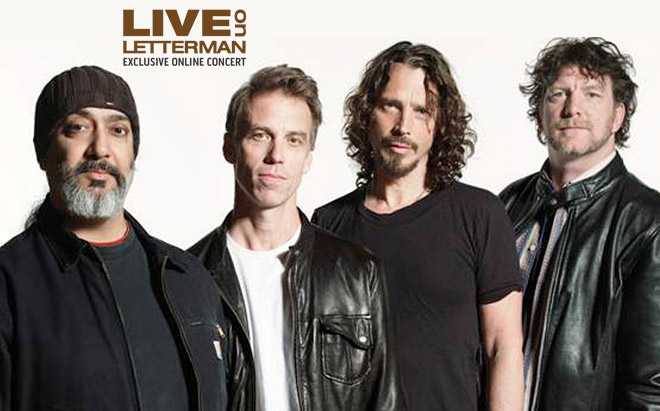 Soundgarden lead singer Chris Cornell did not intend to take his own life, his family have said the day after a US medical examiner's report determined his cause of death as suicide by hanging.
His relatives said they wanted to wait for a toxicology report before coming to any conclusions on what had happened to him, adding that they believed his judgment may have been impaired by drugs he was taking on the day he died.
"What happened is inexplicable and I am hopeful that further medical reports will provide additional details. I know that he loved our children and he would not hurt them by intentionally taking his own life," Cornell's wife, Vicky, said in a statement (theguardian.com, 2017)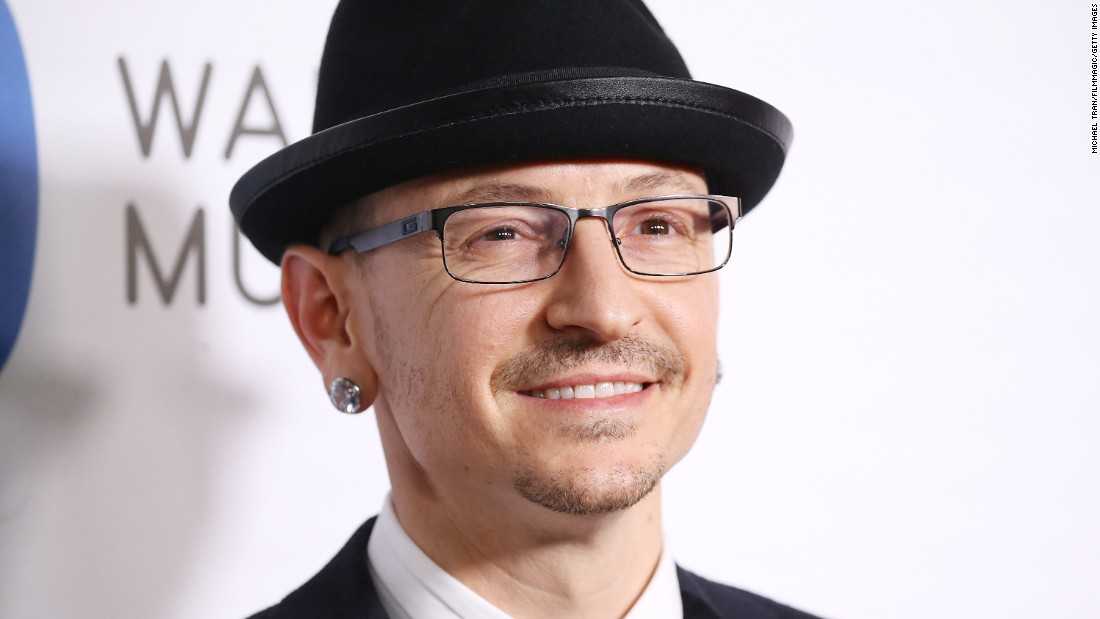 At around 9:00 a.m. PDT on July 20, 2017, Chester Bennington of the band Linkin Park was found dead by his housekeeper at his home in Palos Verdes Estates, California. His death was ruled a suicide by hanging. Bandmate Mike Shinoda confirmed his death on Twitter, writing, "Shocked and heartbroken, but it's true. An official statement will come out as soon as we have one. "On July 21, Brian Elias, the chief of operations for the office of the medical examiner-coroner, confirmed that a half-empty bottle of alcohol was found at the scene, but no other drugs were present (wikipedia, 2020)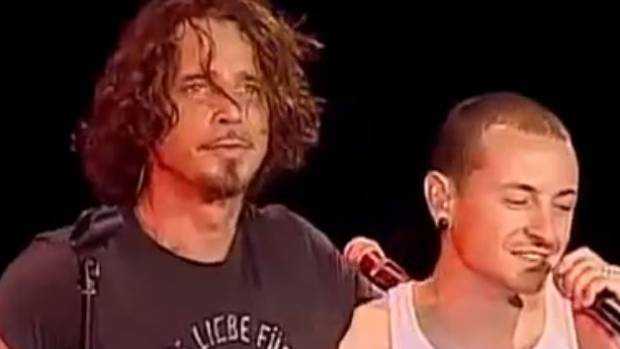 According to an investigative report in alternative news site Your Tango, "In 2014, Linkin Park band member Mike Shinoda wrote a piece for Huffington Post detailing his band's nonprofit called Music For Relief. After the devastating 2010 earthquake in Haiti, the charity started a sustainable recycling program to help the country but began running out of money. The Clinton Foundation came to the rescue, offering the foundation a grant so they could finish their work. The same Clintons who are so close to John Podesta gave a grant to the band in which Podesta's rumored son was a member of".
Furthermore, in 2008 Bennington, of Linkin Park, revealed in an interview with Kerrang! that he had been sexually abused as a child. "It was by a friend who was a few years older than me," he said. "It escalated from a touchy, curious, 'what does this thing do' into full-on, crazy violations." (www.yourtango.com)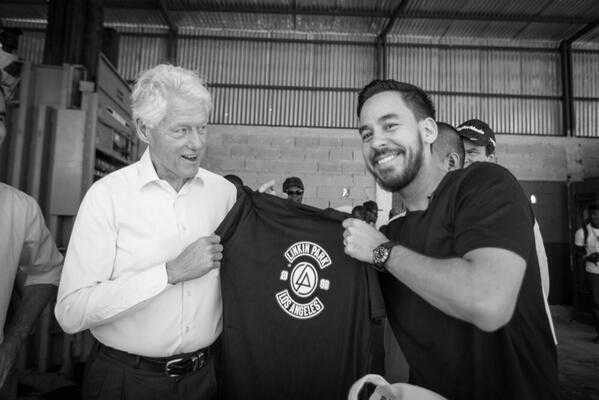 BBC News: Clinton Foundation in Haiti a Disgrace!
TiC Weekly Comment: June 2 to June 9
Hello again and thanks for tuning in!
A monumental crime was committed in 1980. The result of this crime dwarfs the war crimes of Adolf Hitler, Joseph Stalin and George Bush; and that's saying something! The consequences of this crime were not immediately apparent and the magnitude of the consequences from this one decision was responsible for undermining, and even destroying, the health of nations (Hollingsworth, 2010).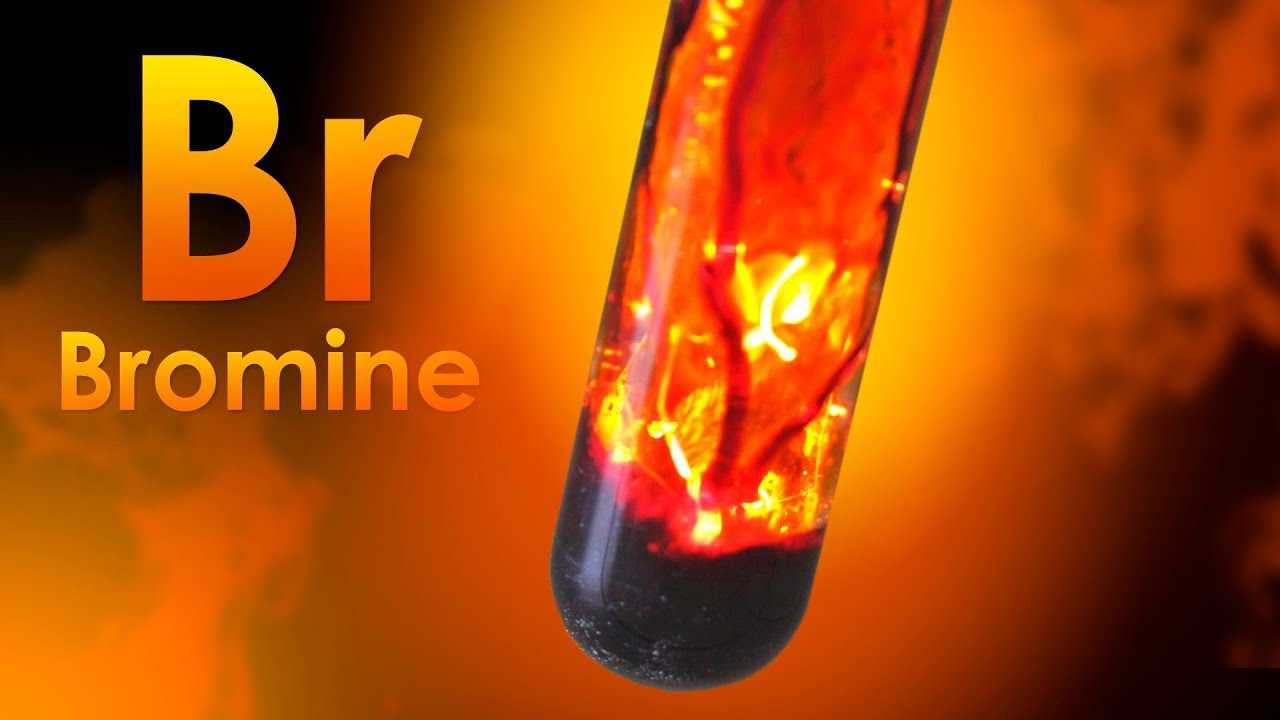 Bromine is the culprit; and it is everywhere! It's an anti-bacterial agent similar to chlorine; it's a fumigant for agriculture and termites; it's a virulent pesticide that kills insects on contact; when it's injected into soil, everything dies….and you probably had it for breakfast!
Bromine became a household name in the 1920s as a hugely popular hangover cure called 'Bromo-selzer'. Big Pharma kept secret the fact that it lead to 'Bromo-Mania'. Check the New England Journal of Medicine and you will learn that between 1920 and 1960, alarming numbers of Bromo-Seltzer victims landed in hospital with acute paranoid psychoses after ingesting the Bromine in the BS solution or other Bromine tonic known as Miles Nervine (Hollingsworth, 2010).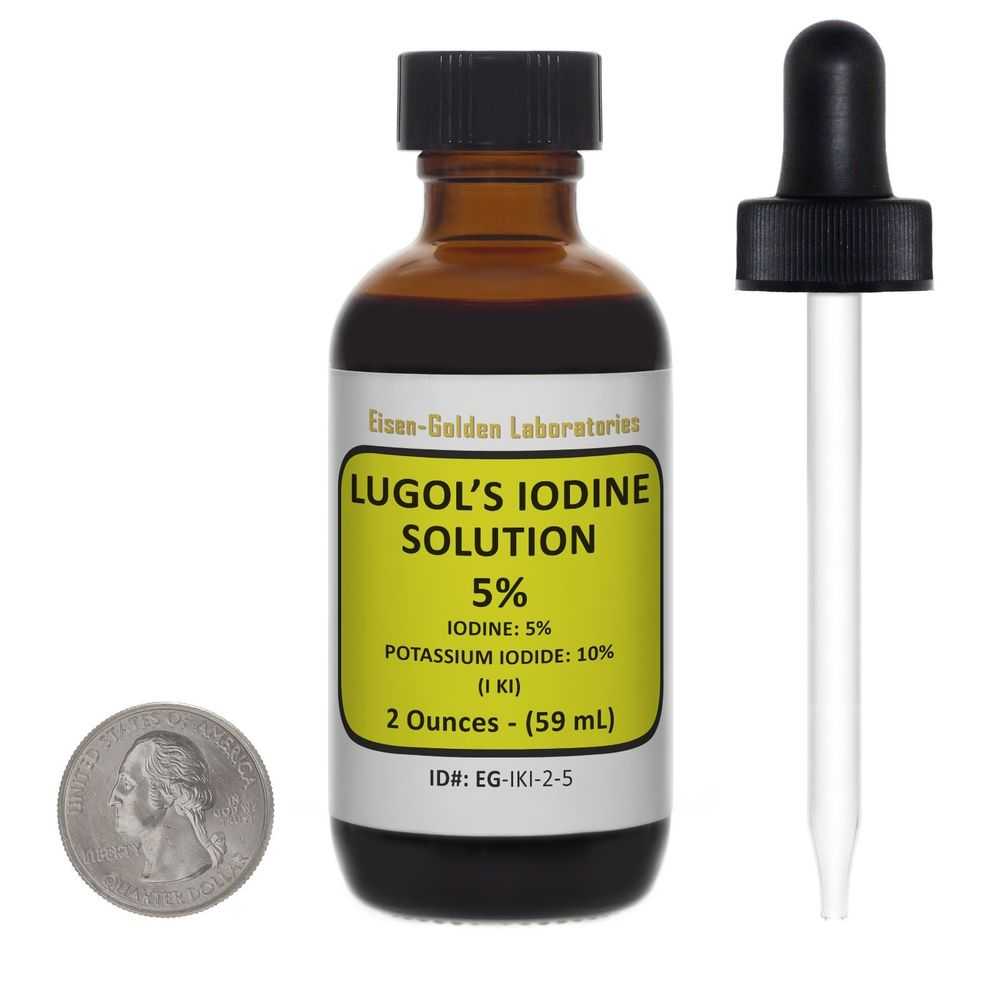 Bromine became a staple in our diets in 1980. It replaced Iodine (Video explains the differences between Iodine & Bromine) that was added to foods like bread and the amount was sufficient to protect thyroid glands. Bromine is found in bread, milk and soft drinks like Gatorade and Mountain Dew.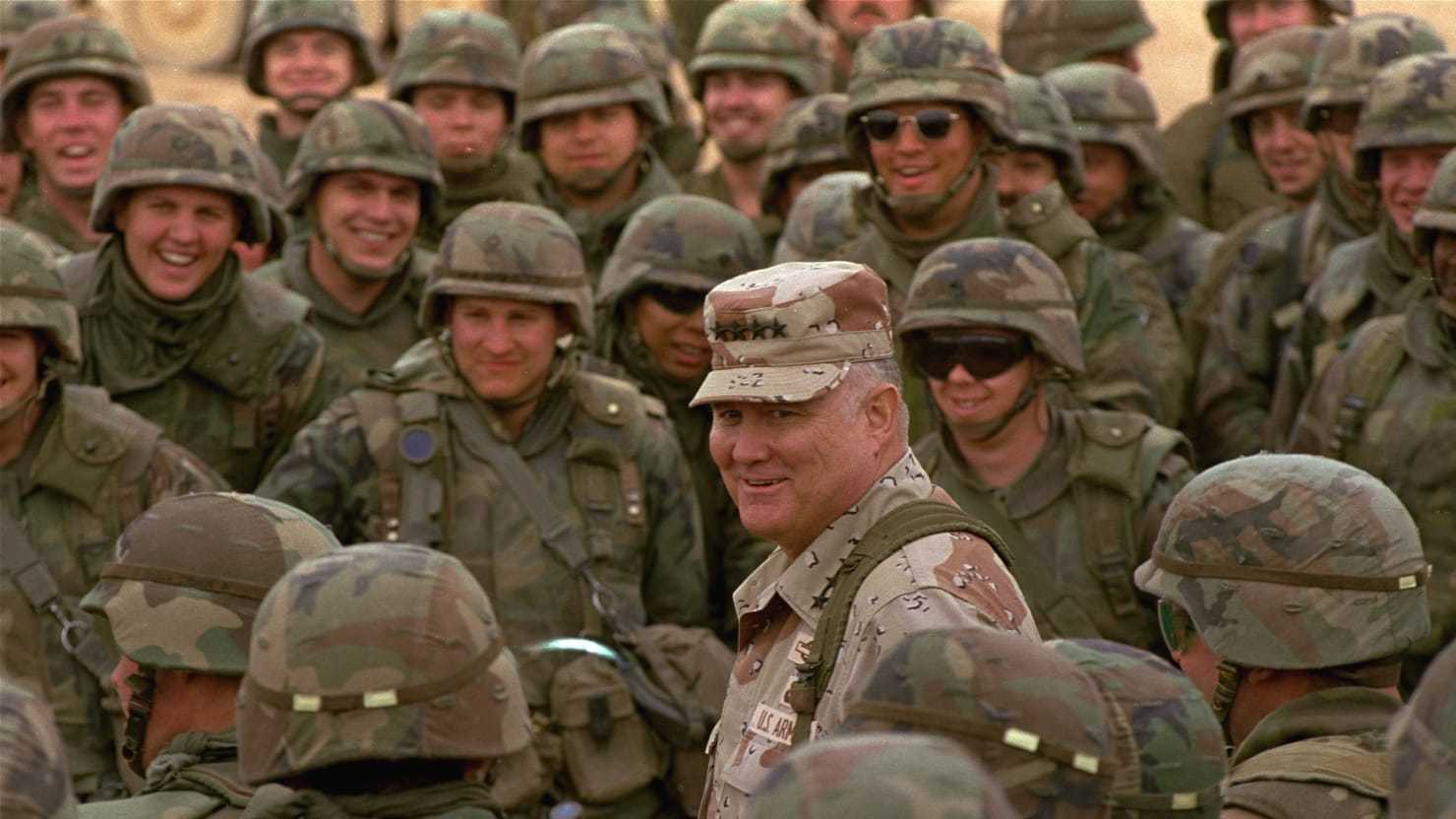 Iodine is essential, as it helps to eliminate toxic metals from our bodies, especially Bromine. This is a massive story, but needs to be told, so it will be continued next week. In the mean time, do some research yourselves. Even delve into 'Gulf War Syndrome' from the Gulf War (Click Image). It lasted only seven months, but the US military poisoned 250,000 of the 700,000 soldiers who participated. It was supposed to protect them from Nerve gas warfare that never eventuated. That has to be a 'War Crime'!
Thanks again for tuning in and hope you check out the other videos and information on the site. Have a wonderful week, Michael – for the TiC Team
TiC Weekly Comment: May 25 to June 1
Hello again and thanks for tuning in!
You would have to have been under a rock if you hadn't heard about Bill gates and his 'agenda' to vaccinate the entire population of the earth. That said; why? He is a humanitarian? He is an empathetic, kind and caring member of the global community, who just wants to 'do' good for his fellow man (&woman). Yeah right, I hope I hear you say! The 'truth' of the matter is, he does have an agenda, regardless of the motivation, that appears to me to be at the least questionable, and at the worst degrading and evil.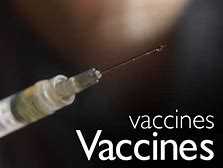 It would be tempting to associate Bill Gates (William Henry Gates III) with historical characters like Frederick Taylor Gates and Frederick Lamont gates.; both of which had connections with the Rockefellas (particulaly Billionare J. D Rockefella of Standard Oil Fame) and vaccination research and trials. However, I cannot find any verifiable evidence for this. His father, William Henry gates II, has definitely been connected to the Rockefellas and their foundation, with an intention to implement programs of control.
James Corbett (2019) said, "Many people have suspected that Bill Gates' obsession with population control is driven by a eugenicist ideology – and that worse, his obsession with vaccines intersects with this eugenicist ideology. This came to the fore in 2014, when a tetanus vaccine funded by The Bill & Melinda Gates Foundation in Africa was found to contain large doses of Human Chorionic Gonadatropin (HCG), which rendered the women who received the shot infertile."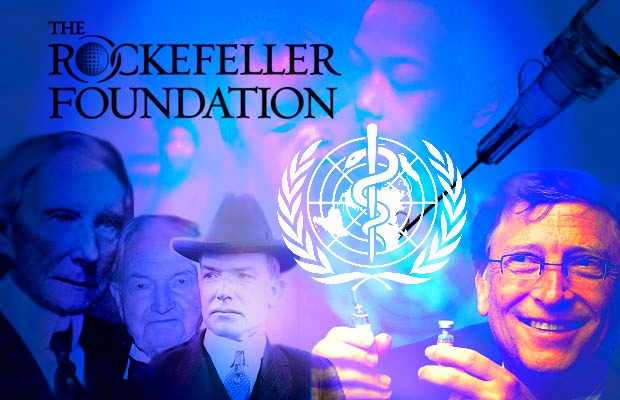 James Corbett (2019) said, "Many people have suspected that Bill Gates' obsession with population control is driven by a eugenicist ideology – and that worse, his obsession with vaccines intersects with this eugenicist ideology. This came to the fore in 2014, when a tetanus vaccine funded by The Bill & Melinda Gates Foundation in Africa was found to contain large doses of Human Chorionic Gonadatropin (HCG), which rendered the women who received the shot infertile."
"Time is not on our side. Even as we speak, mass vaccination campaigns are being prepared. Biometric identification schemes and "immunity passports" are already being rolled-out. Programs for tracking tracing and surveilling the entire population are already being beta-tested and the digital payment infrastructure; the system of financial exclusion that will allow governments to turn off our access to the economy at will is being put into place. We must spread the word about the dark nature of this population control agenda to as many people as we can, before our ability to speak out against this agenda is taken away for good." (James Corbett, 2019)
As we have seen in our exploration of Gates's rise as unelected global health czar and population control advocate, the question of who Bill Gates really is is no mere philosophical pursuit. Given that we are currently living through a crisis that has been predicted by Bill Gates, which is triggering a response from the global health organizations that the Bill and Melinda Gates Foundation has bankrolled and driving us toward a vaccination and biometric ID solution, which Bill Gates has been working on for years, the answer to the question, "Who is Bill Gates?" is quickly becoming one of the most important questions of our lives. That answer will not only tell us about the world that we are living in but about the one that we are being thrust into and how we can avoid it. Today, we will attempt to answer that question, as we examine the motives……..Click below to read more!
TiC Weekly Comment: May 18 to May 25
Hello and thanks for tuning in. Well, what a week so far. It seems I am losing track of the days. We were unlocked here in the UK over a week ago, but you wouldn't know it. More people are wearing masks than ever before, the local mainstream media is still churning out the fear propaganda (swallowed whole by most I can see), and no new shops opened at all. Still just the four supermarkets, one fuel station and my favourite coffee shop; Thank God for that! So without further adieu, let's talk about 'Big Pharma'. Just to put this comment in context, Chris Witty (On right in photo) is UK's Chief Medical Advisor & Sir Patrick Vallance is UK's Chief Scientific Advisor, are up to their eyeballs in payments from The Gate's Foundation. Valence was also Patrick was President, R&D at GlaxoSmithKline (GSK) from 2012 until 2017. This company is mentioned in the following comment.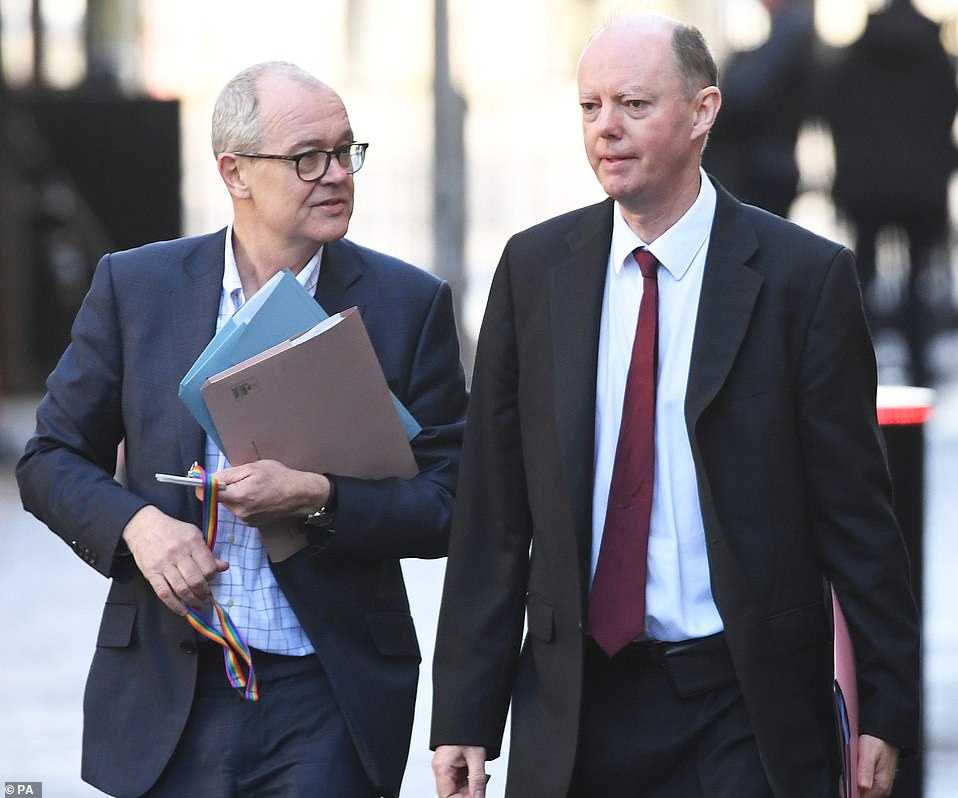 The term "Big Pharma" is used quite often to describe massive pharmaceutical companies that make literally billions of dollars every year to keep Americans regularly supplied with a medicine cabinet's worth of pills. But when we say Big Pharma, who are the players in the pharmaceutical industry? Who is responsible for flooding neighborhoods and communities with addictive medication? Who are the agencies responsible for keeping them in check? (American Addiction Centers, 2019)
There are two sides to the coin of this conversation: the pharmaceutical industry, which is responsible for the development, manufacturing, and marketing of drugs for use as medications; and Big Pharma, the colloquial (and often pejorative) term used to describe faceless corporations that push hugely overpriced drugs onto hapless and desperate consumers. Some of the names of the biggest players in the industry may be familiar. Others may not ring as many bells, but with their market value, the relative anonymity works to their advantage. The Motley Fool provides a list of the companies doing the best business: Johnson & Johnson ($276 billion market value), Novartis ($273 billion), Pfizer ($212 billion), Merck ($164 billion), GlaxoSmithKline ($103 billion), Eli Lilly ($98 billion).
World governments and Big Pharma companies are "turning a blind eye" to bribery and corruption that allows a few to make vast profits while damaging the health of many of the poorest people on Earth, a new report has claimed. Transparency International's Corruption in the Pharmaceutical Sector report found that despite as much as $300m (£207m) of annual global health expenditure being lost to corruption and errors: "Genuine commitment to anti-corruption policies by heads of governments, senior government officials and regulatory agencies is currently absent in many countries"(Lusher, 2016). In some contexts, the report added, combating malpractice was "hampered by a tacit acceptance of corruption." Corrupt tactics highlighted in the campaign group's report include paying doctors to participate in surveys of medicines they have never actually prescribed, and companies secretly ghostwriting clinical trials research before passing it off as the work of impartial academics.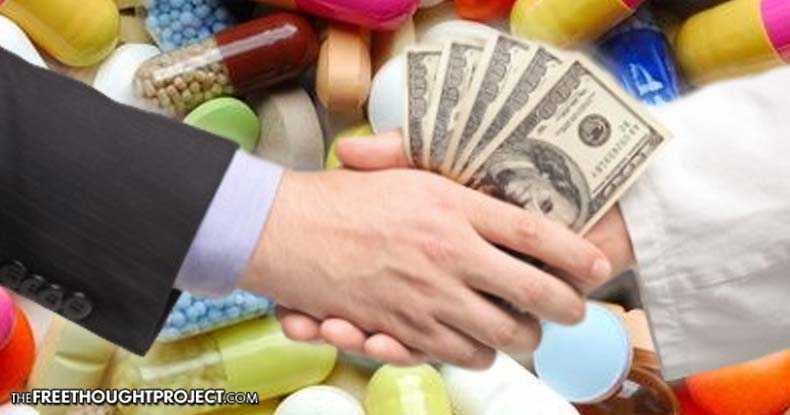 The business of the pharmaceutical industry is not always a pleasant one. Given the fierce competition from rival corporations and the unfathomable amounts of money to be made, it is not surprising that some of the biggest federal fines ever levied have come against drug manufacturers. In 2012, for example, GlaxoSmithKline pled guilty to criminal charges of willfully promoting its leading antidepressant drugs, like Paxil and Wellbutrin, to consumers under the age of 18. Neither drug had been approved by the US Food and Drug Administration to be used by minors, for which reason the government slapped a $3 billion fine on the company. In 2012, Johnson & Johnson were hit with a $2.2 billion fine for promoting off-label use of its drugs (i.e., the company was found guilty of encouraging consumers to use the drugs for purposes not condoned by the FDA). Pfizer, in 2009, paid $2.3 billion for illegally marketing its Bextra drug. The New York Times noted that the fine – a "record sum" at the time – accounted for less than three weeks of Pfizer's sales (American Addiction Centers, 2019).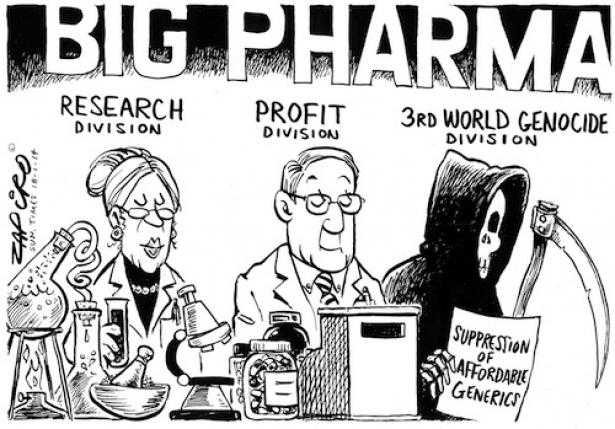 Bribery and corruption, the report says, also allow some companies to get round manufacturing regulations, helping to create a situation where about a quarter of medicines consumed in low and middle-income countries are falsified or sub-standard. "Where one individual gains from creaming off the top," said Sophie Peresson, the director of Transparency International's pharmaceuticals and healthcare programme, "Hundreds more can be deprived of the most basic healthcare, often in the poorest populations of the world." Claiming that the global pharmaceutical sector was "wide open to corruption", she added: "It is shocking that despite scandal after scandal, policymakers simply are not taking seriously the corrosive effect of corruption. The red flags are being ignored. "Governments and pharma companies must recognise their responsibility in fighting corruption and stop turning a blind eye." Part of the problem, the report said, was the huge power of the pharmaceutical industry in a world where global spend on medicines is expected to grow to $1.3tn by 2018. Big Pharma's financial muscle, the report claimed, allowed it to spend millions every year on political lobbying: "Pharmaceutical companies can unduly influence national political systems through their large spending power. [They] often fund candidates that support their position on key issues."(Lusher, 2016)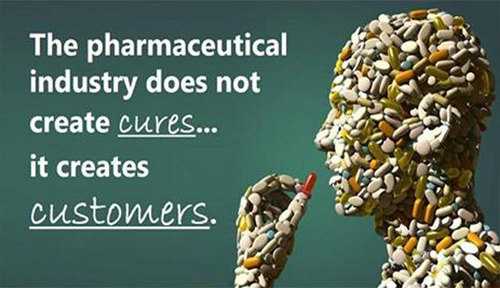 Pharmaceutical companies, it was claimed, could also buy a positive but misleading gloss on trials of a drug's safety and effectiveness. The report said one study found that 94 per cent of industry-funded clinical trials of antidepressants was written up to suggest positive results, but when the US Food and Drug Administration re-examined the same studies, it found only 51 per cent had genuinely positive outcomes. The corruption could even extend to disguising who had actually written the research. The report claimed that having the pharmaceutical industry ghostwrite clinical trial articles and pass them off as the work of eminent researchers was "a common practice, particularly in industry-led trials. Ghostwriting [can] increase the prestige of the findings, while researchers improve their reputation, which can lead to promotions.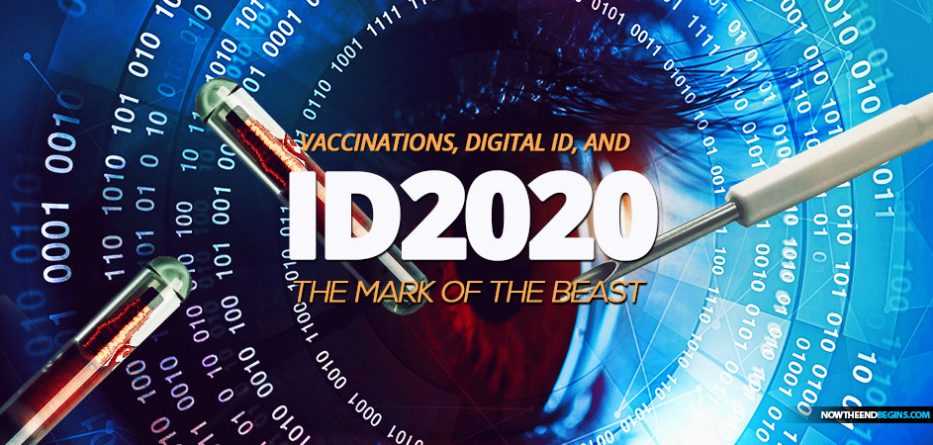 The report also claimed vast sums were spent on influencing doctors and this sometimes involved persuading them to prescribe expensive drugs that were no better than cheaper alternatives. In the US alone, the report said, "The pharmaceutical industry spends an estimated $42bn [a year] on promotional activities that target doctors, which is equal to $61,000 per doctor on average." In some countries, the report said: "A pharmaceutical company can use representatives to collect data on the safety and efficacy of its medicines from doctors who did not even prescribe the medicines being studied, in return for some kind of compensation." In countries lacking good governance, bribery and corruption could also be used to get around medicine manufacturing standards. As well as the immediate dangers of about 25 per cent of medicines being substandard or fake in poorer countries, there were knock-on effects in the form of a global increase in the prevalence of drug-resistant bacteria. Doctors unwittingly prescribing poorly-made medicines could assume they were giving drugs which were correctly manufactured but not working on their patient. They could then switch to an antibiotic as a last resort, giving bacteria more exposure to a drug supposed to be used only rarely, and thus increasing the chances of resistant strains evolving (Lusher, 2019)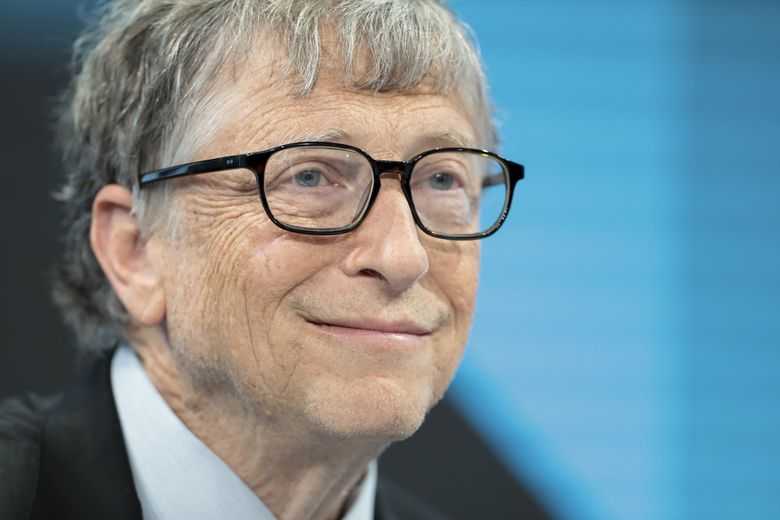 Having done much research myself, it would appear that fines often have little financial impact compared to the profits corrupt pharmaceutical companies make from the sales generated by such practices. "For example, since 1991, the industry has paid $30bn in criminal fines in the US for Medicare fraud, unlawful promotion, kickbacks, monopolistic practices and failure to disclose clinical trial data, yet this is less than half of what the industry made in 2009 alone. "To genuinely diminish corruption in the pharmaceutical sector," the report concluded, "national governments must show commitment to tackling the issues. Well there you go folks….It's up to our corrupt governments. I can't help feeling that this whole sordid affair is going around in circles. I would love to get your feedback, so 'Get in Touch' and share your ideas and perspective.
Thank you for all the support and input from all around the world and until next week……spread some love around, Michael for the TiC team.
TiC Weekly Comment: May 11 to May 18
Hello again and thanks for tuning in!
Late as usual. Not intentional, just actually had to go into work for a day and got behind ha. I had two choices for this week given the current situation. As I have posted a few 'Immune Health' videos, I thought I might touch on 'symbolism'. I know many of you have explored this in depth, so just bear with me and maybe spread the word from here….fascinating really how the masses do not notice the clues as to who is creating the narrative for how we're supposed to live our lives. Most think their lives and the direction it takes it is based upon their own free will and choices. That just shows how powerful this mostly, not that hidden symbolism, and the propaganda through the media really is! The following is by no means exhaustive, but covers a few of the 'popular' symbols permeating our society and cultures. Firstly, let's talk about the pentagram. The following video is a good introduction.
A pentagram is a five-pointed star with a single point that faces upward and two points that face downward. An inverted pentagram is a five-pointed star that is upside down, with two points facing upward and one point facing downward. In modern magical traditions, there are important differences between the upright and the inverted pentagrams. While the upright pentagram has positive connotations and is a prominent symbol of modern witchcraft, the inverted pentagram typically has nothing to do with witchcraft and has negative or evil connotations. Christians once commonly used the pentagram to represent the five wounds of Jesus. The pentagram is also used as a symbol by other belief systems and is associated with Freemasonry (Drake, 2017).
In modern magical traditions, the inverted pentagram typically relates to the domination of matter over spirit. People often associate the inverted pentagram with evil and Satanists, or individuals who worship Satan or the Devil. In 1966, Anton Szandor LaVey founded the Church of Satan in San Francisco. The Church of Satan uses an image of Baphomet as its main symbol. The symbol features Baphomet's head with an inverted pentagram enclosed in a circle on it. Depending on the magical tradition, modern witches may refrain from using the inverted pentagram in their rituals because of its evil connotations. However, in the Gardnerian tradition of Wicca, witches may use the inverted pentagram to represent a Second Degree Initiation (Rex. E, 2019).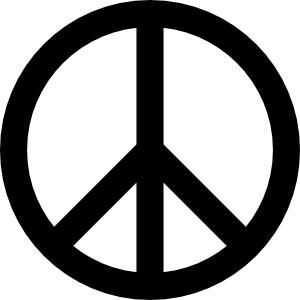 The second symbol that has appeared throughout modern history has been the 'Peace' sign. The peace sign, sometimes called the upside-down broken cross, probably originated (in relatively modern times) in the late 1950s as a protest against nuclear armament. The Campaign for Nuclear Disarmament (CND) states the symbol came from Gerald Holtam, a professional designer who graduated from the Royal College of Arts in England. This same 'broken cross', The Cross of Nero from ancient times, represents the hatred and persecution of Christians. Nero (Roman Emperor from 54AD to 68AD, Julio-Claudian) hated the Christian people, and crucified Peter the Apostle (St. Peter). Peter asked to be crucified with his head facing downwards as a sign of humility and respect for Christ (Rosenberg, 2019). The third set of symbols in today's comment are ones associated with Pedophiles.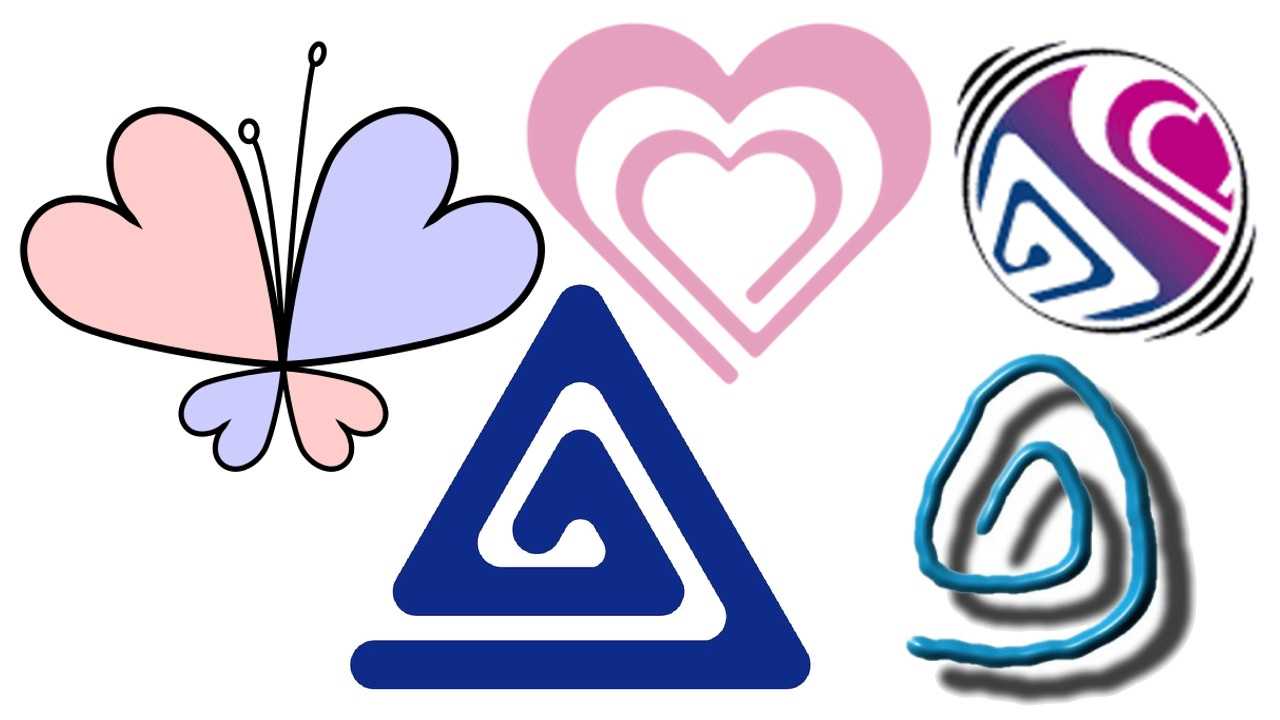 According to the UK tabloid The Daily Mail, These are the symbols pedophiles use to signal their sordid sexual preferences. The seemingly innocuous pastel-colored scrawls feature butterflies, love hearts, and spirals. But to FBI agents they signify something much darker. One of the symbols, a blue spiraling triangle framed by another triangle, is known as the BoyLover logo. It is used by pedophiles who prefer young boys. Another is for pedophiles who prefer much younger boys. This symbol, known as the LittleBoyLover logo, is also a blue triangle spiral, but drawn in a child-like scrawl. The so-called GirlLover logo is a heart inside a heart, indicated that the male or female pedophile prefers young girls. Pedophiles who do not have a preference of gender use the ChildLover logo, which is a butterfly made up of love hearts. https://www.dailymail.co.uk/news/article-3560069/The-symbols-pedophiles-use-signal-sordid-sexual-preferences-social-media.html
Finally, there is the Childlove Online Media Activism logo, which pedophiles use as a symbol to promote their 'cause': that sexual relationships between adults and minors should be decriminalized. The symbol – a triangle, a love heart and a circle merged into one – has been circulating social media, blogs and webcasts for years. It has even appeared on some children's toys. Investigators with the FBI's Cyber Division Innocent Images National Initiative first discovered the code in 2007.
So next time you have chosen to let your child watch another Disney cartoon or movie Epic, be aware that this hidden symbolism, is not so hidden when you are 'aware' of it. You might be shocked at this blatant act to degrade, not only our culture, but also to erode our societal norms to the point where these fiends are accepted among us as 'normal'.
I would dearly love everyone to do there own research and give me some feedback about this comment or Tune in Channel. If you have an opinion or would like to forward some information or videos, get in touch so we can arrange for you to 'dropbox' it.
Hello again and thanks for tuning in.
Living and working in a country 16,500 kms (10,220 miles) from home is a wonderful experience. Living and working from a 1 bedroom flat, with no social interaction apart from supermarket attendants during this lock down, brings forth other emotions. I am writing this a few days late due to the busy weekend just passed. I know some of you tune in regularly to read it, so apologies for the delay!
Saturday, May 2nd, I arrived at a scheduled protest at Scotland Yard, London, to find no other participants. Van loads of Met Police descended on me and I was detained for 30 minutes getting my identity checked and was forced to leave and return home. I had made my point and spoke to a number of journalists on my way out. A small number of protestors arrived shortly after I had left and some were arrested or fined. There are a number of news outlets who have uploaded videos on youtube about this incident. Sunday was the 'Salute' for Julian Assange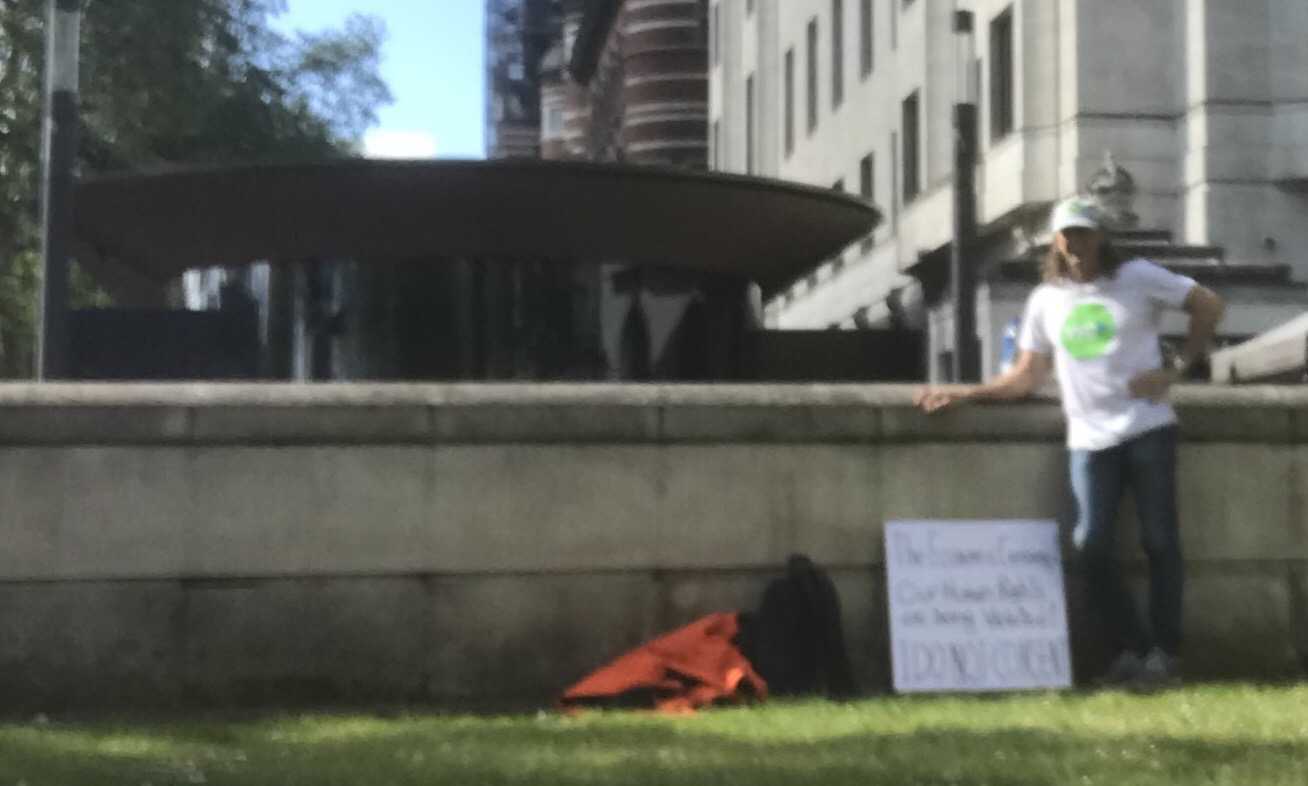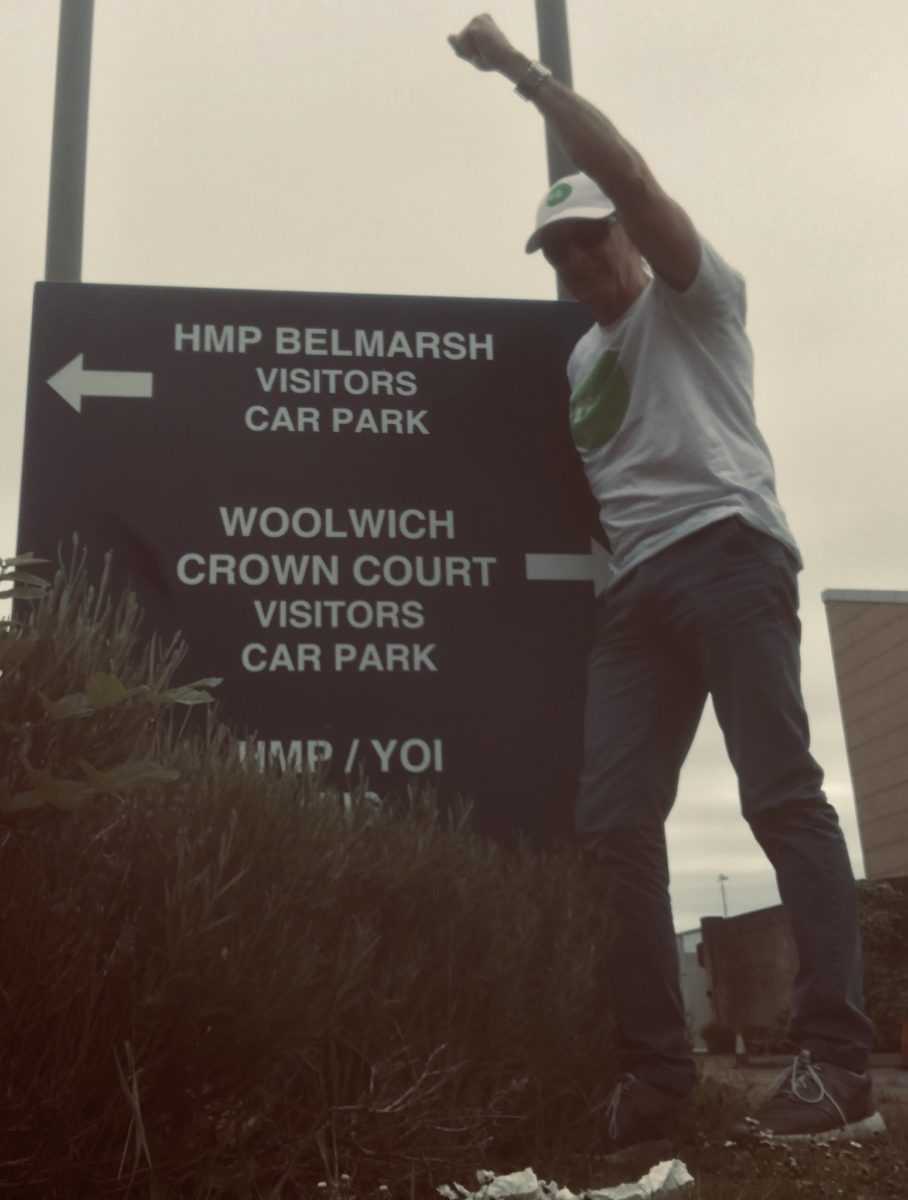 Sunday, May 3 at Belmarsh Prison for World Press freedom Day
I made it clear in one interview, that was filmed and recorded, about the significance of the pineal gland in this whole scenario. This has been detailed in my last two weekly comments at the bottom of this page. It is a complicated story for sure, and often hard to believe that this has been orchestrated over the past 2,000 years, and more significantly in the last few decades. I implore each and everyone of you to do some research about Free Masonry and it's origins, The Talmud and Zionism. You will find that most of the conflicts (ie. WW1 & WW2) in the early part of the 20th century were organised and financed by those preparing for the establishment of the Jewish State of Israel in 1948.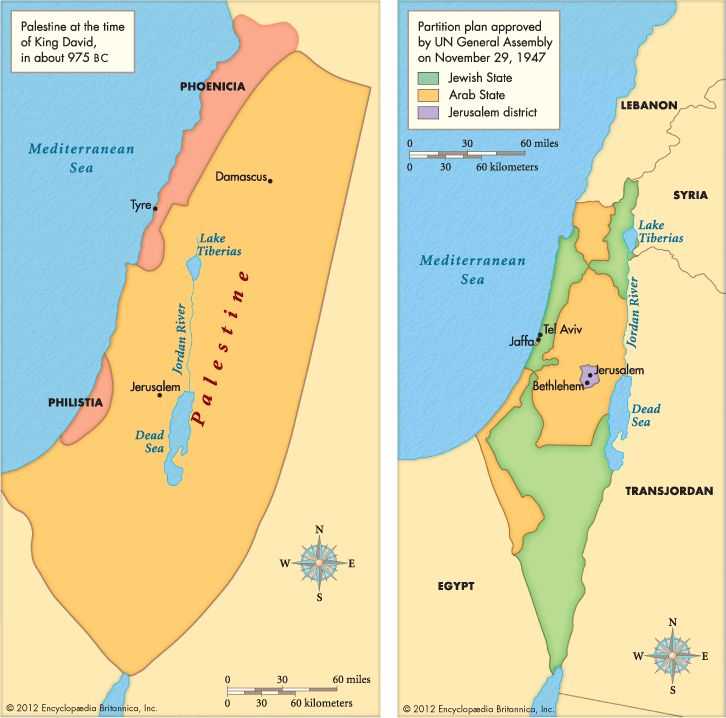 Many inhabitants who have occupied this land since 1948 are not Judaist Jews (of Biblical origin) or the Palestinians for that matter, but 'Crypto Jews, who have hijacked the promise of the 'Chosen ones'. Especially read Deuteronomy, the 5th and last book of the Torah (the Jewish Bible), which is the first five books of the Old Testament of the Christian Bible.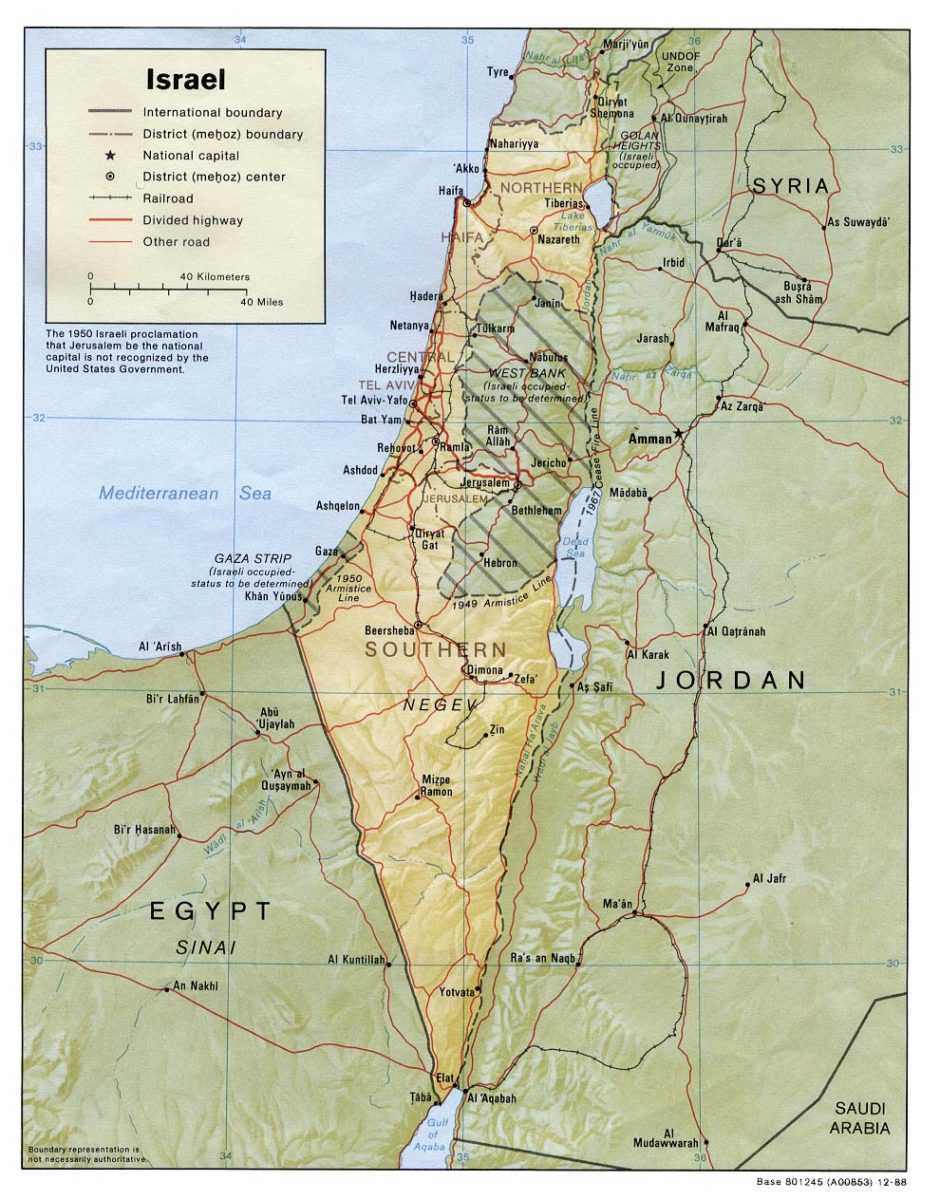 Jared Kushner, Trump's son-in-law's building is the USA IS number 666 (A number from Revelation, the last book of the Bible). He is 'Jewish', and also Trump's un-elected advisor. trump's daughter (Kushner's wife) converted to his 'Jewish' religion. And to think people actually believe that Trump is going to save us (The Q). He is in bed with Netanyahu, Israel's corrupt, criminal Prime Minister (His charges of corruption are mainstream news).
Why Palestinians and Israelis are in conflict
As far as I am concerned, there are only two sides to this struggle for global power and control. In recent history, represented by George Bush Snr. and Jnr. (Skull & Bones, another masonic-type group), Obama and the Clintons = The Masons and then Trump's camp = The Zionists. Make no mistake though, they are both working on the same end game, just that side moves closer to the finish line; so they don't mind who does the dirty work along the way. The question is, who will win at the photo finish? Hopefully 'we the people' will be the judge of that! And they will both be disqualified!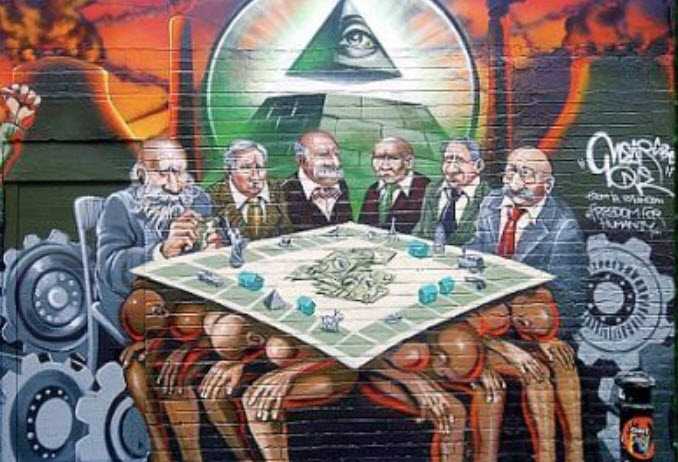 We just need to all stand up united and they will fall!
I would dearly love everyone to do there own research and give me some feedback about this comment or Tune in Channel. If you have an opinion or would like to forward some information or videos, get in touch so we can arrange for you to 'dropbox' it.
Until next week, Michael – for the TiC Team
Hello again and thanks for tuning in.
This week, I have to talk about the pineal gland again. Why? Because I am positive that this is how the 'Elite' believe they will finally control the population with out anyone pushing back with much resistance: by effectively calcifying the pineal gland (The third eye, our pathway to enlightenment).
Firstly, a little revision about what the pineal gland is and what it does; in the physical sense. The pineal gland, conarium, or epiphysis cerebri, is a small endocrine gland in the brain of most vertebrates. The pineal gland produces melatonin, a serotonin-derived hormone which modulates sleep patterns in both circadian and seasonal cycles. The shape of the gland resembles a pine cone from which it derived its name. The pineal gland is located in the epithalamus, near the center of the brain, between the two hemispheres, tucked in a groove where the two halves of the thalamus join. The pineal gland is one of the neuroendocrine secretory circumventricular organs in which there does not exist the blood–brain barrier at the capillary level.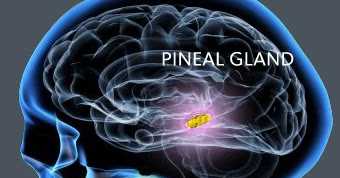 While the physiological function of the pineal gland has been unknown until recent times, mystical traditions and esoteric schools have long known this area in the middle of the brain to be the connecting link between the physical and spiritual worlds. Considered the most powerful and highest source of ethereal energy available to humans, the pineal gland has always been important in initiating supernatural powers. Development of psychic talents has been closely associated with this organ of higher vision.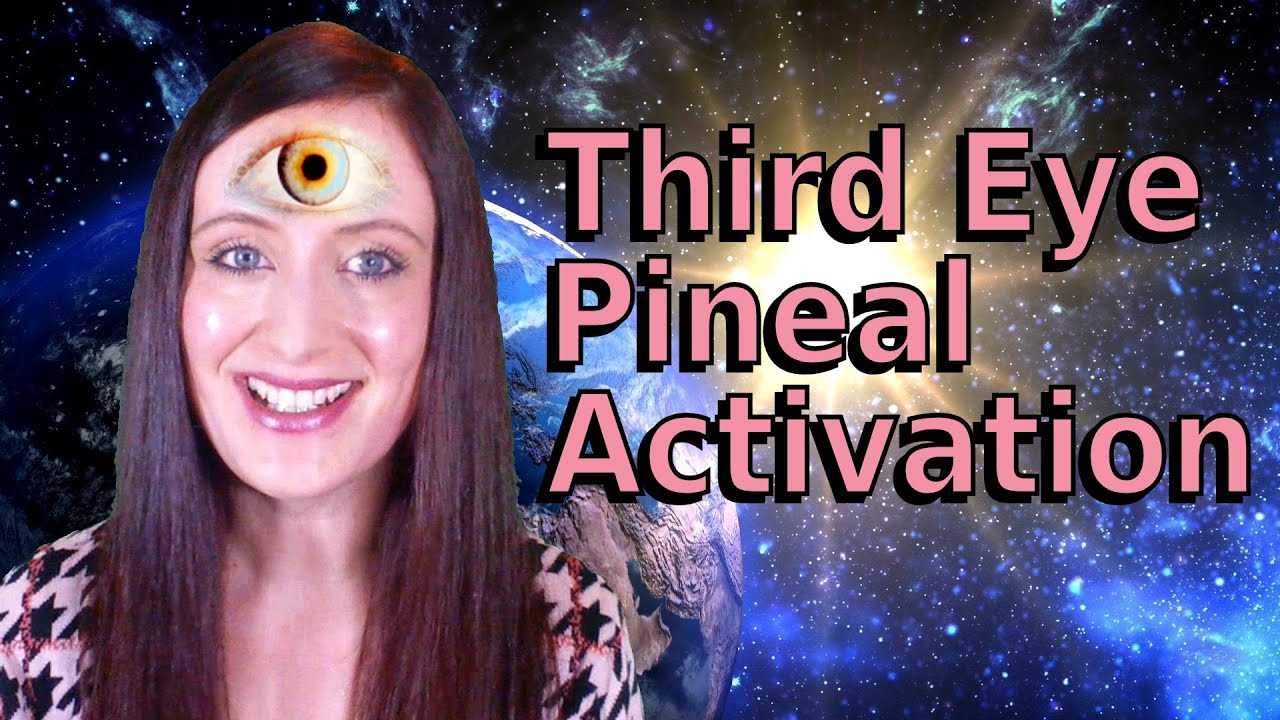 The third eye (pineal gland) controls the various bio-rhythms of the body. It works in harmony with the hypothalamus gland which directs the body's thirst, hunger, sexual desire and the biological clock that determines our aging process. When it "awakens", one feels a pressure at the base of the brain.
The pineal gland's location deep in the brain seems to intimate hidden importance. In the days before its function as a physical eye that could see beyond space-time was discovered, it was considered a mystery linked to superstition and mysticism. Today it is associated with the sixth chakra.
The pineal has been calcified over many decades – see Weekly comment April 5 to 12 at bottom of page.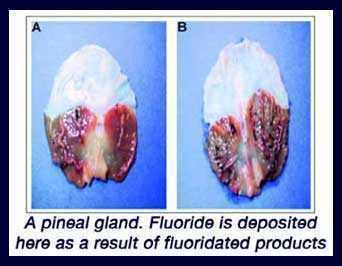 To decalcify your pineal gland, we need to do three things:
1. Eliminate certain foods and environmental factors that are causing additional calcification.
2. Remove existing calcification.
3. Create an external environment that supports healthy pineal gland functioning.
Improved intuition and enhanced Psychic or Empathic.
First lets talk about the benefits of decalcifying your pineal gland, which is essentially the awakening of your third eye.
Improved ability to manifest and overcome karma
More Vivid dreams and Lucid Dreams
Astral Projection becomes possible
Imagination and Creativity are increased
Secondly, there are two aspects of decalcifying your pineal gland. The first is to stop any further calcification of it, which is caused by some food and environmental factors. The second step is to work on removing the existing calcification and help to further develop your pineal gland.
STEP 1 – What to Avoid: (Stop further calcifying Your Pineal Gland)
Primary causes of calcification:
Halides
Halides are chemicals such as Flouride, Chlorine, and Bromide.
Flouride is the most common in our diets. It is magnetically attracted to the pineal gland more so than any other part of the body. Here it forms calcium phosphate crystals, which accumulate. Fluoride is in toothpastes and tap water. Even outside of its effect on the Pineal Gland it is a toxic poison and should be avoided at all costs.
Calcium
Calcium Supplements – This is one of the biggest causes of calcification, as well as clogging of arteries.
Calcium in food – Pretty much all processed food contains some form of calcium.
Mercury
Mercury is very bad for the pineal gland and our bodies, due to its poisonous nature.
– Mercury tooth fillings are recommended to be removed. Also all medical vaccines are tainted with mercury, so do your research on that. One to look out for is Thimersal (a vaccine preservative made of methyl mercury). This is very difficult to get out of the brain once it's in there.
– Avoid eating almost all fish and bottom feeders such as shrimps and prawns.
Eco light bulbs should also be used with care, as if one is smashed mercury vapor is released into the room and inhaled..
Pesticides from conventionally grown fruits and vegetables can have fluoride and other pineal toxins as well. Organic and raw foods that don't contain pesticide are recommended.
Other toxins:
– Any processed foods, or "junk foods" also contribute to the calcification as well.
– This also goes for the lotions, soaps, shampoos, deodorants, and anything else you put on your skin, since your skin absorbs these toxins directly into your blood stream.
All artificial sweeteners (aspartame), refined sugar, phylenanine (in fruit squashes), cleaning chemicals, dental mouthwashes and air fresheners all contain toxins best avoided as well.
White flour, soda, or carbonated beverages should also be avoided.
Sugar, Caffeine, Alcohol and Tobacco (S.C.A.T.)
Tea is also heavily sprayed with pestisides, so only drink herbal tea and buy them organic. (See my blog on teas here)
Avoid cooking with Teflon and most other non-stick Pans – Some research has found that cooking with Teflon-coated pans can significantly increase the fluoride content of food.
Avoid Fluorinated Pharmaceuticals such as Cipro Many pharmaceuticals are fluorinated, meaning they contain something called a "carbon-fluorine bond."
Avoid any chicken fingers and chicken nuggets – Almost all of these are made using a mechanical pulverizing deboning processes that increases the quantity of bone particles in the meat. Since bone is the main site of fluoride accumulation in the body, the higher levels of bone particle in mechanically deboned meat results in significantly elevated fluoride levels.
For more information, follow the link: https://theartofunity.com/how-to-decalcify-your-pineal-gland/
How the Pineal Gland Releases the Life Force: You will be amazed!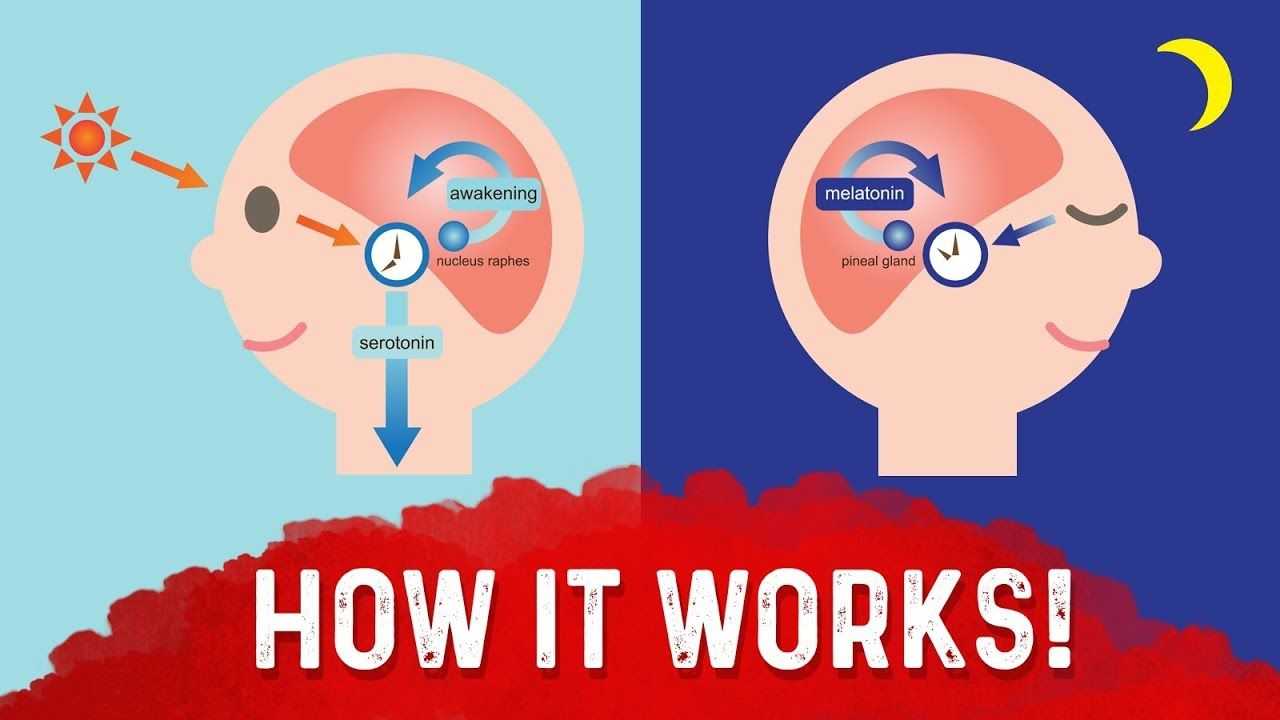 STEP 2 – Remove Existing Calcification of Your Pineal Gland
(It is not necessary to take all of these, but try a few and monitor your results. Don't let this overwhelm you, just take one step at a time gradually becoming open to these health concepts.
Activator X (Vitamin K1/K2)
This is most potent in Fermented Skate liver oil. This powerful detoxifier has a long list of other health benefits as well such as, high antioxidants, high omega 3, vitamins A, D, E, K1&2, removes plaque in blood and allows for calcium to be removed from the arteries and placed in the bones, and more.
MSM
This is a very powerful general detoxifier. It is also good for your hair, skin, nails and building bones.
Raw Cacao
Raw and Organic Cacao is very helpful because of the high antioxidant content. It is also good as a pineal gland stimulant, which can help to activate your third eye.
Raw Apple Cider Vinegar
This contains malic acid, which is good for detoxification of your pineal gland. Make sure it's raw, organic and has "the mother" in it. I like this one.
Citric Acid
Raw lemon, juiced and consumed is very good at detoxifying your pineal gland.
Garlic
Garlic is great for decalcification because it is able to dissolve calcium and acts as an antibiotic. It is also beneficial for many other things like your immune system.
Oregano Oil and Neem extract
These act as a natural antibiotic against the calcium shells that nanobacteria create around themselves in the pineal gland.
Boron
Iodine
Iodine has been clinically proven to increase the removal of sodium fluoride from the body. This occurs naturally in seaweed.
Tamarind
The pulp, bark, and leaves from the tamarind tree can be used to make teas, extracts and tinctures. Tamarind is often used in Ayurvedic Medicine and has many positive health properties.
Distilled Water
There is research that has shown distilled water can help to decalcifying the pineal gland.
Other things to benefit your Pineal Gland:
– Doing a liver cleanse is also helpful.
– A healthy sauna or a sweat lodge with help.
– Sleeping in complete darkness without any lights for 6 to 8 hours per night (including avoiding the TV, night light, electronic clocks or devices showing the time in lights). If you get up to use the bathroom, try not to put the light on.
Cell phones
Some studies have shown that radiation from can be harmful to the pineal gland.
Practice Energy Work
Tai Chi or Chi Gong will give you serious help with your pineal gland activation.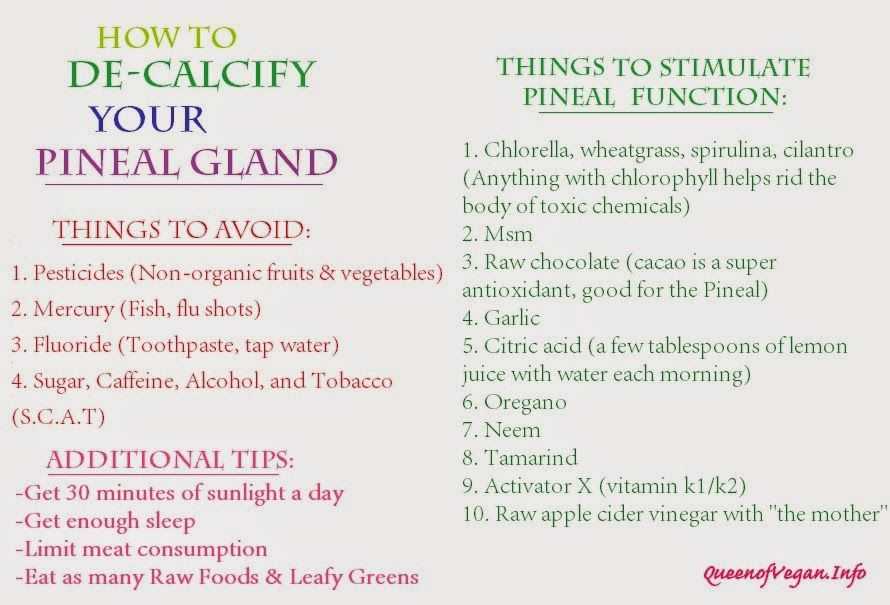 A Summary of How to De-calcify the Pineal Gland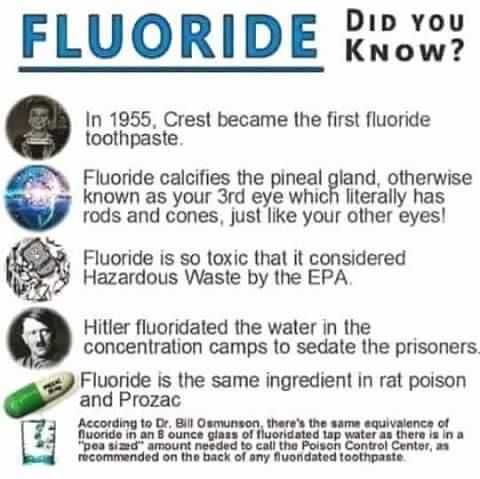 The Evils of Flouride: Why is it in our toothpaste and water?
Explaining the Function of The Pineal Gland
The Pineal Gland: How flouride, glyphsate, aluminium and 5G are working together to destroy it
'We should know the Holy Bible of the Christian religion has an Old Testament and a New Testament. The Old Testament's first five books are called the Torah, and is where Judaism basically finishes and Christianity begins (over simplification). Jewish Kabbalah is a set of esoteric teachings meant to explain the relationship between God, the unchanging, eternal, and mysterious Ein Sof (אֵין סוֹף, "The Infinite"), and the mortal and finite universe (God's creation). It forms the foundation of mystical religious interpretations within Judaism. It is from this understanding of the basic differentiation between the two, I would like to move onto the connection between The pineal gland, Judaism and control of the world.
The pineal gland as we now know is located in the center of the brain is an enigmatic little organ that is the subject of remarkable new scientific investigation. Now located in the center of the world is an enigmatic little rock known as the Foundation Stone in Jerusalem, that is the subject of remarkable ancient Jewish traditions. Historically, the pineal body has been associated both in the Orient and in the Occident with different functions of consciousness including being the seat of the human soul through which spirit enters and leaves. Also the Foundation Stone historically has been associated in the Bible, Talmud ( there is a book available describing this titled 'The Talmud a Biography') and kabbalistic traditions with different functions of global consciousness including being the "seat" of the world's collective soul and through which the world's spirit enters and leaves.
Science now theorise that the pineal gland is capable of generating a natural substance known as DMT (Dimethyltryptamine), an extraordinarily powerful essence that is able to alter one's personal consciousness, transport a person's mind into an inner metaphysical dimension and imprint one with a radical life-changing spiritual experience. Conversely, it has long been known that the Foundation Stone in Jerusalem, is capable of generating a universal substance known as Mayim Chayim – "Living Liquid", an extraordinarily powerful liquid-light essence that is able to alter our collective consciousness, transport humanity's mind into an inner metaphysical dimension and imprint all of us with a world-changing Godly experience.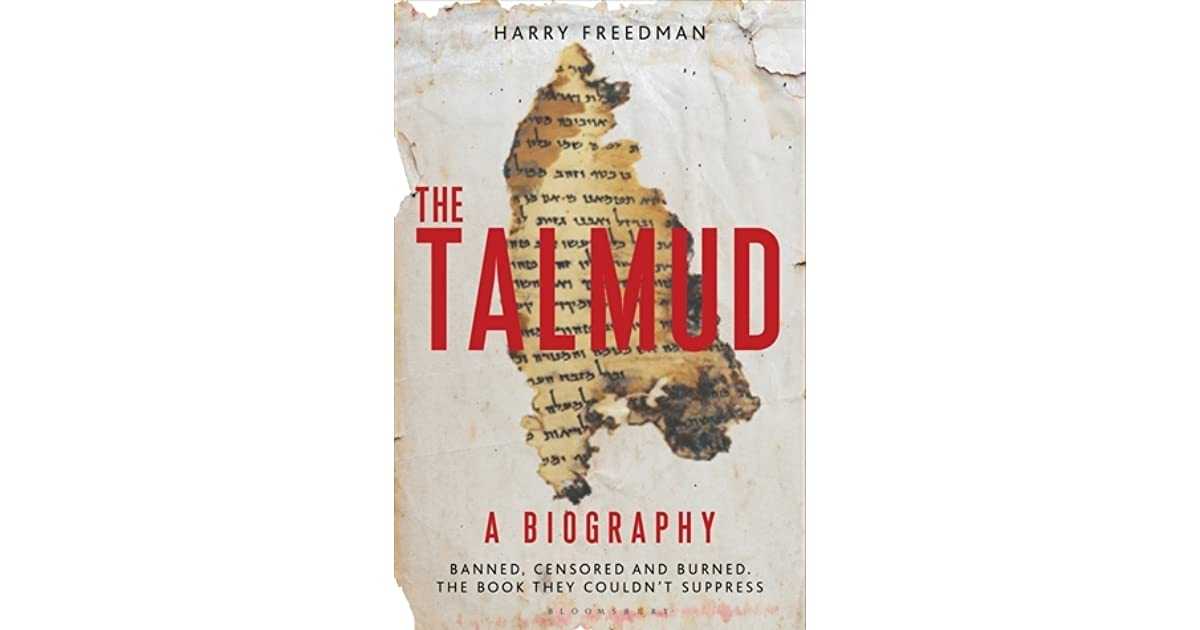 Good Book for Background about The Talmud
If on desktop computer: Back to top right of page to continue
The Talmud (Teachings of God's word) spread all over the world, including America, Europe and Russia to name a few. Many similarities are seen in Muslim teachings as Talmudists and Muslims mixed happily and intellectually for hundreds of years in places in the Middle East regularly sharing ideas. There is also much written about the Khazars (Turkish Jews) and there links to Russia, among other things. Without controversy, just stating facts here, the Jews are well known throughout history and the modern world as being involved in banking and business globally. For example, the Rothschilds and Warburgs (some describe them as Cryptojews as there Judaism Jewish origins cannot be verified), but their involvement in banking (and cultural change Institutions) and enormous wealth cannot be refuted. It is almost common knowledge that the traditional Judaists had little to do with the establishment of Israel (1948) and the way it is run (marginalising the Palestinians) and is also common knowledge that the Rothschilds financed the purchase of the land for Israel.
The Balfour Declaration near the end of WW1 stated "His Majesty's government view with favour the establishment in Palestine of a national home for the Jewish people, and will use their best endeavours to facilitate the achievement of this object, it being clearly understood that nothing shall be done which may prejudice the civil and religious rights of existing non-Jewish communities in Palestine, or the rights and political status enjoyed by Jews in any other country." I have to continue this next week as the story is too long and complicated for one sitting. Hopefully before next week you can do some research on the before mentioned topics. The story of the USA moving their embassy to Jerusalem, Jared Kushner (Trump's son-in-law) and the culture changing influence of Hollywood all need to be explained, as does the interesting point that the Rothschilds' family crest is the same as Russia's coat of arms and The British East India Company's flag (1600s to 1700s) has striking similarities to America's first flag after independence……it's a complicated story; ALWAYS FOLLOW THE MONEY TRAIL! Hope you do some research on the flags below and the money trail behind the scenes.
I would dearly love everyone to do there own research and give me some feedback about this comment or Tune in Channel. If you have an opinion or would like to forward some information or videos, get in touch so we can arrange for you to 'dropbox' it.
Until next week, Michael – for the TiC Team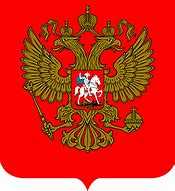 One of Rothschild's Family Crests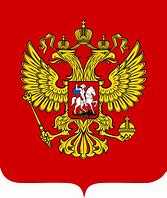 Russia's Coat of Arms (Circa 1460)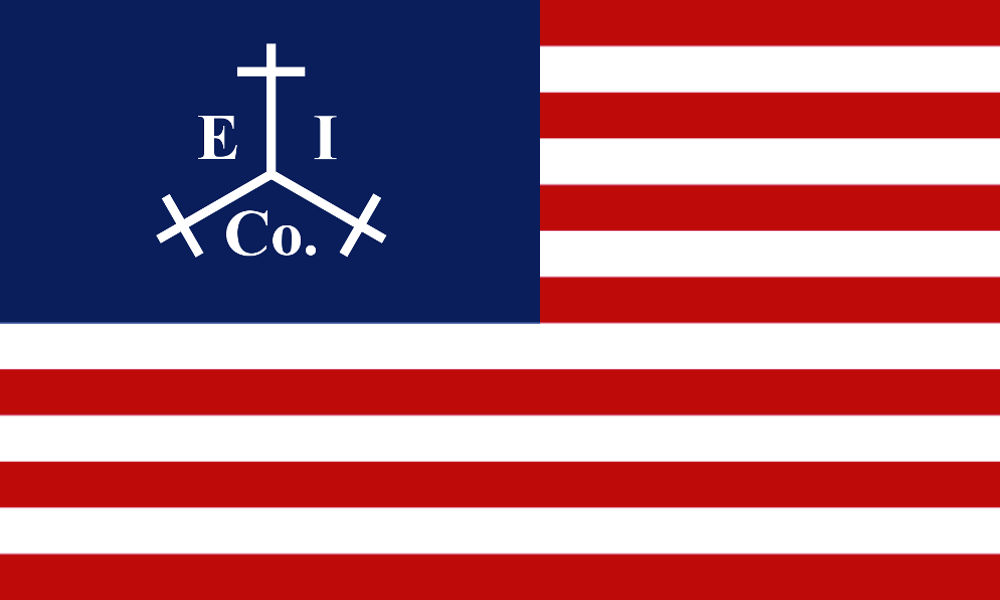 One of the British East India Company's Flags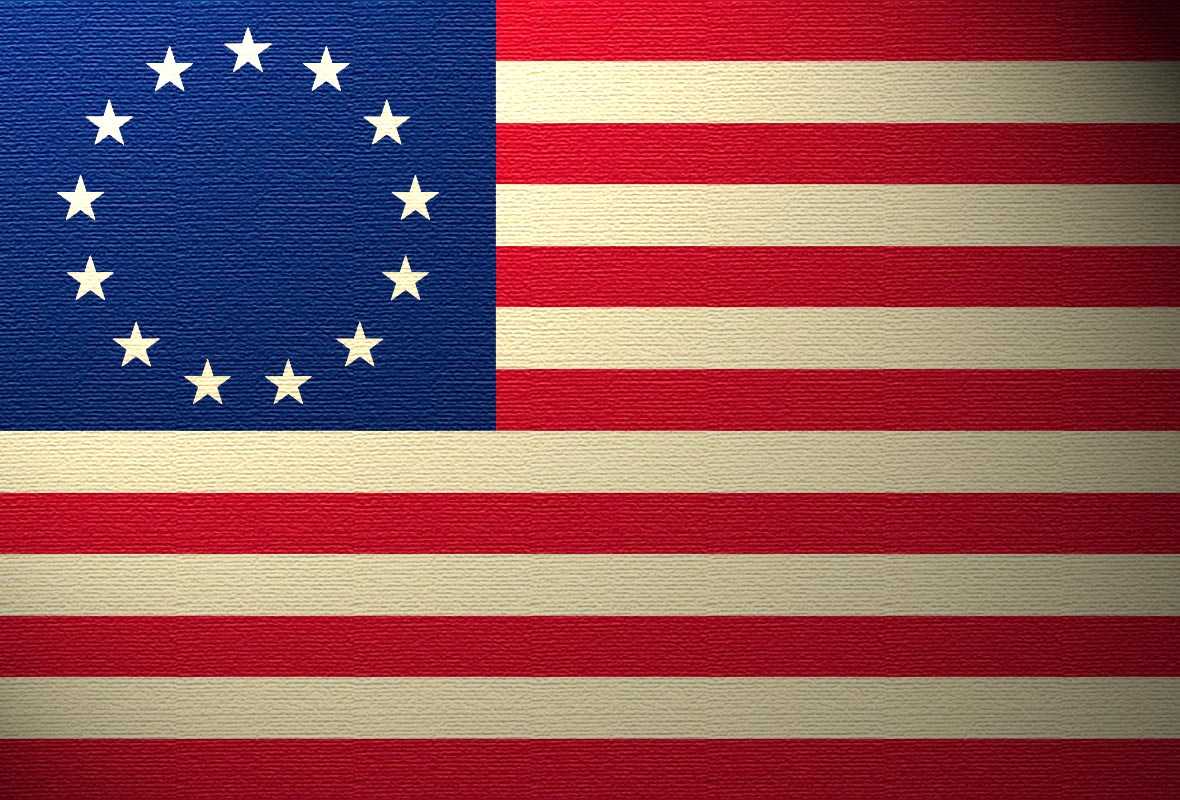 America's First Independence Flag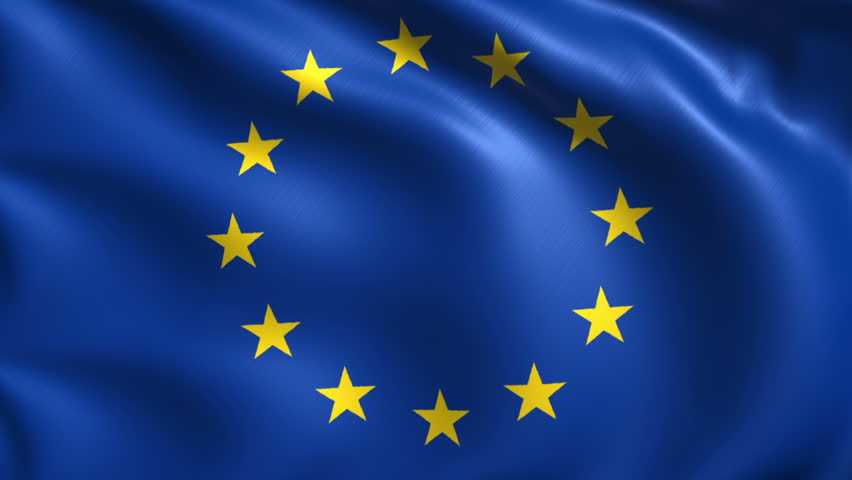 Hello again and thanks for tuning in.
We should all know by now that the Coronavirus (COVID-19) pandemic is an extremely unusual event. Given that the world has seen many 'pandemics' in the past, more recently MERS and SARS; why all the fuss this time? Fuss is definitely an understatement given the reaction of the media and world governments to this particular virus outbreak. Why is Sweden so relaxed? I have, in the previous two Weekly Comments, tried to convey the most likely (according to me) reasons for this global response (it's complicated). I have left the last two Weekly Comments below, on this page, in case you need to reference them. Now this week I will try to paint THE big picture as I see it.
First of all we must understand that the timeline for the following outcomes is not specific. Many or all of these discussed below have been in progress for hundreds of years and the factions responsible have their origins to Biblical times. Here is the context: The Aim is to control the world population. The objectives to achieve this aim are:    1. Destroy culture and connection to the land 2. Control the money supply 3. Create social division. I will try to cover objectives 1 and 2 briefly, as we are solidly nearing the end of objective 3, 'Create social division'.
Objective 1. Destroying the culture (burning books, destroying buildings/monuments, imprisoning cultural leaders) has always been a mandate of any conquering force. After the destruction and within a few generations, any attachment to a cultural heritage is forgotten, leaving the population open to any new ideas, concepts, principles or values to the benefit of the conquerors. Some good examples are found in the indigenous populations, specifically America (British to North and Catholics to the south) and Australia (British). Separation from the land and destruction of cultural connection. More recently the integration movement in the USA in the 1960s and destruction of Iraq and Syria this century in the Middle East. There has been a general subtle cultural change pervading all the global community thanks to Hollywood, the media and foundations run by the likes of Rockefeller and Gates.
Objective 2. Control the money supply has always been the goal of anyone hoping to achieve power and control. Without objectives 1 and 3 (mentioned above), this has often been short-lived throughout history. The bankers, however have played their part in progressing the changes needed to ultimately control the population. "money talks", "money makes the world good round" and "money is the root of all evil" are phrases we all know that hark to the power of wealth. It has controlled leaders and governments all through history. From the early money lenders and tax collectors of ancient Rome to the world banks (75+) today, all privately owned, that provide approximately 97% of the money supply. So let's go to Objective 3.
Objective 3. Create social division is "Divide and conquer", "together we stand, divided we fall". Even Jesus Christ said, "I have come to cause division"; so how powerful is that! Religion, race, colour, gender, socioeconomic status, to name a few….but wait: A Virus! Have you noticed already how awkward, suspicious and nasty some people have become through fear, generated from the media and the government's misinformation. I hope you have had an opportunity to play some of the videos on the home page. The US government have directed doctors to 'falsify' death certificates. Many say the real toll is about 10% of what is reported.
Social distancing may become the new norm. Laws have been passed through many world governments during the lockdowns to restrict social behaviours, removing the 'Freedoms' that our forefathers fought so hard to protect (Rich man's wars anyway; for another time). Recent examples of social restrictions have been The Patriot Act in the US after 911 (Similar to a virus). The National Security Agency (NSA), and others, have been implicated in this since at least the 1970s and prior to that the CIA, established after WW2 and known by other names before that.
This brings me back to 5G, as did last week's comment. A home page video highlighting China's (existing, but expanding) Social Credit System should be evidence enough about the unending push for a 5G rollout despite many expert, but unfortunately mostly silenced voices against this untested and probably unhealthy technology, packaged as a needed convenience for our modern lifestyle. What we will get instead is widespread surveillance (facial recognition), control and suppression through remote targeted EMF radiation (military technology) and an end to freedom as we know it. Once again there will be some opposition and it may take years, but the agenda has already taken possibly 2,000 years, so 'they' are not in a hurry.
I would dearly love everyone to do there own research and give me some feedback about this comment or Tune in Channel. If you have an opinion or would like to forward some information or videos, get in touch so we can arrange for you to 'dropbox' it.
Until next week, Michael – for the TiC Team
Hello again and thanks for tuning in.
This crisis, like many we have seen, doesn't have one explanation. Like most things, there are many contributing factors. I am, like many, trying to look at the versions supported by 'believable' facts, evidence and credible examples. The economic aspect (covered last week), the onset of 5G (with now obvious related health implications) and of course the virus. Was the economy about to burst from unimaginable levels of debt and little equity? (probably). Will 5G make us sick with symptoms similar to the flu (probably), and is the Coronavirus real (probably). I am now putting all three of those ingredients together to try to explain what this is all leading to.
The Pineal Gland, is a gland in the human brain, that produces Melatonin (a natural hormone your body secretes that helps to maintain your wake-sleep cycle; also called biological clock) among it's many functions. This tiny gland has been heralded by cultures for thousands of years as the 'Third Eye', a sixth sense, allowing spiritual enlightenment. (please watch the videos on the home page for further explanation). It is as tiny as a grain of rice and it resembles the look of a pine cone. You can see decorations, statues and ornaments everywhere, even today, if you look out for it. New Scotland Yard, in London has these 'pine cones' adorning their perimeter fence (why?).
Years of controversial 'Fluoridation' of water supplies around the world are, according to some experts, is 'calcifying' this gland (again, watch a video), leading to disruption of it's primary functions. People believe this is being done to 'dumb-down' the population. Fluoride is a mineral that occurs naturally in nature and in water. Some say the fluoride they put in our drinking water is not a pharmaceutical grade additive. It is an industrial waste by product from aluminium production. Others say that fluoride is a mind-control drug. Anyway, it's effect on the Pineal Gland seems to be scientific fact.
The aluminium link is interesting, as we now know how bad it is for our bodies. Any heavy metal is bad for our bodies, like mercury (in vaccines by the way). I had aluminium in my tooth fillings for example. Some say that our atmosphere has been sprayed with aluminium and other heavy metals for decades. Yes, I am talking about the Chemtrail vs Contrail debate. These nanoparticles (named because they are very small), regardless of where they come from have been detected by 'mainstream' scientists in the air pollution in our environment. So regardless of where it comes from, it is there in measurable quantities.
The third ingredient is Glyphosate (active ingredient in common Roundup), but used extensively worldwide to kill weeds on crops, and now can be detected in even cereals found in US supermarkets. The poison attacks the The shikimate pathway (produces amino acids-food for the plant, among other things) of the plant. This pathway is not found in animals and humans, who must instead obtain these essential amino acids from their diet. The industry who produces these and our governments have therefore deemed them safe. The problem is that this glyphosate in our food, and entering our bodily systems causes our cells to malfunction. Science has linked the combination of aluminium and glyphosate (moving to the brain), with the dramatic increase in Dementia.
So where does 5G come in. Well we know that 5G is military invented microwave radiation that is mainly untested for it's health and safety aspects, So why are they rushing to get this rolled out? To cut a very long story short. 5G will then be used as a weapon by the elite to act upon the weakened Pineal Gland (our 6th sense) through the nanoparticle heavy metal combined with glyphosate in our brains to allow mind control of the population.
I would dearly love everyone to do there own research and give me some feedback about this comment or Tune in Channel. If you have an opinion or would like to forward some information or videos, get in touch so we can arrange for you to 'dropbox' it.
Until next week, Michael – for the TiC Team
Hello again and thanks for tuning in.
Wow, what a week! Most countries in lock-down, including here in the UK. Why? Well depends who you ask and what you read and choose to believe. Common sense still tells me that this is one of many viruses doing the rounds now, and over the many years past. Where does it come from? That I don't think matters as the truth is difficult to determine. The statistics already show that it is not going to challenge the usual flu season deaths. Those who have died recently have only been tested for the Coronavirus, which only means it was in their bodies prior to death; not the cause of death.
Unless you have only been watching or reading mainstream news you would know that the debt in the world has reached astronomical highs. The world banks, like the US Federal Reserve bank (one of around 75 private banks globally that supply around 97% of all world currency) have been pouring money into the system to ensure it doesn't burst and keeps afloat (1929 and 2008 GFC were busts). Let's go back in time a bit.
The first World Bank (Private) was in Amsterdam, Holland (Netherlands). The second was the Bank of England, 1694 after the Glorious Revolution of 1689, when a Dutch (from Holland) King and Queen were financed to the Throne. In the late 1700s, when the Americans released themselves of the British (Independence), the private bankers wanted to be allowed to supply the money. Abraham Lincoln and others opposed this (introduced the Greenback, government currency) and the rest is history. JFK tried to remove the monopoly of money supply from the Federal Reserve (private money) and bring back the Greenback (government currency) with the same result.
President Nixon, in 1971, removed the gold standard from the US dollar, which meant that the currency no longer had to be guaranteed by a backing of gold. This basically allowed the Federal Reserve to print as much money as it wanted to pour into the markets. This supply of money created a huge oversupply and allowed debt to spiral to where it is today, with a few bubble busts on the way (notably 1987 and 2008).
In 2019, the Federal Reserve began pumping Billions of dollars, on the way to an estimated 1.5 Trillion dollars into the market to ensure that whole debt bubble didn't burst. Here we are only a few short months later and the economy is collapsing, not because of the debt bubble, but because of a mystery virus.
The opinion is that the money system is being re-set under this smokescreen of a global virus pandemic, and the power of the Federal Reserve is being secretly transferred to the US Treasury and the gold standard will return (The Q??). The power of the World Banks (Private money) will finally be over and a more fair and equitable system will be in place.
I would dearly love some feedback about this comment or Tune in Channel. If you have an opinion or would like to forward some information or videos, get in touch so we can arrange for you to 'dropbox' it.
Until next week, Michael – for the TiC Team